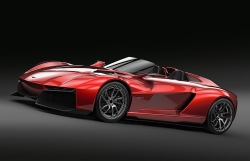 Santa Ana, CA, June 02, 2014 --(
PR.com
)-- With the initial web launch of Beast only a few weeks ago, Rezvani is proud to announce the beginning of production of Beast #001, headed to a customer in Texas, U.S.A. The
Rezvani BEAST
is an ultra light new supercar with extreme power to weight ratio.
The Beast 500 is the very first production vehicle that will leave Rezvani's partner facility, N2A Motors. But undoubtedly, not the last. CEO Fardees Rezvani is optimistic as to the future of the brand:
"We're very excited to begin work on our first customer car," says Rezvani. "It's only step one, but it's a big step that our team has worked hard to achieve. From this point on, we're going to let the car do all the talking."
The customer-ordered Beast 500 will feature a twin-charged four-cylinder engine, a six-speed manual transmission, and rear wheel drive, all based on the Ariel Atom platform.
Rezvani Beast
will hit the streets by the end of the year.
About the Rezvani BEAST
Born on the track and designed for the road, the Rezvani BEAST gives new meaning to the lightweight, high-performance sports car, with world class styling. From a six-speed manual transmission, to a rear-wheel drive layout, every inch of BEAST is built with the driver in mind — raw, pure, and powerful.
Rezvani BEAST
is an ultra light, carbon fiber supcar deisgned and built in California and able to achieve extreme peformance numbers.
Performance
Thanks in part to its 1,550 lb curb weight, the BEAST 500 can sprint from a standstill to 60 mph in 2.7 seconds. The BEAST 300 can reach 60 mph in only 2.9 seconds, tipping the scales at a featherlight 1,470 lbs.
Power comes from either a 2.0-liter turbocharged, or 2.4-liter supercharged mid-mounted engine that can produce 315, and up to 500 horsepower respectively.
Both engines are prepared by Ariel Atom specialists DDM Works of South Carolina. DDM Works (http://www.DDMWorks.com) President, Dave Michel, provides this overview:
"When the engine is built, the block is disassembled, and checked for defects, etc. Then the crank bearing surfaces are polished, the block is cleaned, bored, decked and prepped for the new high-performance parts.
"The engine is assembled with all new parts — upgraded pistons, forged H beam rods, ARP studs, and optional clutch upgrades — and filled with a break-in oil for the first start. On the 500hp twin charge versions, stock cams are used and stock heads, although the head is disassembled, cleaned, pressure checked, surfaced and put together with new seals."
The high-output engine is paired to a limited slip six-speed manual gearbox, and a rear wheel drive layout. All with minimal electronic interference that provides drivers with tactile feedback and extreme response."
Design
Under the direction of Rezvani Automotive Designs (http://www.RADAutomotive.com) — the same firm involved in the design and development of the Vencer Sarthe — BEAST's stunning look was created by renowned automotive designer Samir Sadikhov (http://samirsadikhov.com). Samir is known for designs like the Aston Martin DBC, and Ferrari Xerzi concepts. The BEAST is the very definition of an aggressive, open-top supercar with minimalist surfaces and ultimate performance proportions.
Beginning at the low-friction front fascia, the body lines extend out to create a streamlined appearance. Paired to angular rear panels, air flows over the car to provide maximum downforce at high speeds.
Engineering
Built on the Ariel Atom's* platform, BEAST uses the industry's foremost carbon fiber production methods. Thanks to our partners at N2A motors (http://www.N2Amotors.com) — a specialty composite body maker with a rich history in making concept cars for large manufacturers — engineers are able to custom fit each body using 3D printing technology and CNC milling techniques.
"We are going to take the CAD data and turn it over to my CNC programmers where we will write the cutting program to CNC, and cut a urethane foam 3D model of the car on our gantry mill," says Gene Langmessner, CEO of N2A Motors. "Then we will prepare that model for pulling a mold from."
"After making the composite mold we will be able to lay-up the carbon fiber parts to place on the donor chassis. After we lay-up the carbon parts and fabricate/engineer/scheme a way of fitting them to the chassis, we document the process and take additional molds where needed in order to repeat the process for production. Then surface, paint color sand and buff and the car is ready for the show circuit! This process will be about 1,000 – 1,500 man-hours spanning over the next 5-6 months."
The BEAST will also feature a fully removable windshield, a roll cage, and a set of RS05 PUR wheels wrapped in front 235/35/19 and rear 295/30/19 Toyo tires.
Price
In order to celebrate Rezvani's launch of the BEAST, the first two models of the BEAST 300 and BEAST 500 will be offered at a special "Launch Edition" price. For the BEAST 300 Launch Edition, the first two lucky clients will be able to purchase this high-performance roadster for only $99,500 USD. The BEAST 500 Launch Edition begins at $124,900 USD. A full day of professional race track driving class is also available to BEAST 500 owners at no extra cost.
The MSRP for the standard model (not including Launch Edition) begins at $129,000 for the BEAST 300, and $149,000 for the BEAST 500.
The Rezvani BEAST is also available as an upgrade to current Ariel Atom* owners for $49,000 for the BEAST 300, and $69,000 for BEAST 500 Launch Editions.
*Note: Rezvani does not sell the Ariel Atom, but is able to assist clients in sourcing and delivery of Atoms to their Orange County, Ca., facility.
Partners
Together with DDMWorks, N2A Motors, and Sabet Brands, Rezvani is able to compile the best in branding experts, performance specialists, and body molding experts to create this one-of-a-kind driving experience for the road and track.
In order to expedite the production process, Rezvani is focusing on putting its resources towards tooling and production methods for BEAST, rather than a one-off show car. Each car is made to order and delivery time is typically three to six months, depending on options and personalization. The Rezvani BEAST is now available for purchase.
For more information visit rezvanimotors.com