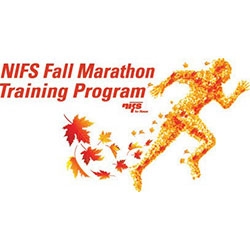 Indianapolis, IN, June 04, 2014 --(
PR.com
)-- Join the 1st annual NIFS Fall Marathon Training Program to prepare for the Monumental Marathon on Saturday, November 1, 2014. Training begins at 5:30pm on Wednesday July 9th at the National Institute for Fitness and Sport in downtown Indianapolis.
Did you know that in 2012, roughly 487,000 individuals finished a marathon in the United States? Whether you are new to marathons or have done a few in the past, the NIFS marathon training program offers three different skill level training plans to ensure that you are training appropriately for the race. This training program is developed and led by exercise physiologists at NIFS so you get the best training to help you succeed.
The 17-week program meets at NIFS and Riverside Park to complete a weekly long run each Wednesday at 5:30pm from 7/9-8/27 and each Saturday at 7:00am from 9/6-10/25. The program includes a detailed training plan, expert coaching, a program t-shirt, weekly snacks and refreshments, and training clinic and expo.
To register, or for more information regarding the NIFS Fall Marathon Training Program, call NIFS at (317) 274-3432, ext. 226 or visit
www.nifs.org
to register online.
The National Institute for Fitness and Sport is a non-profit organization dedicated to enhancing human health, physical fitness and athletic performance through research, education and service for people of all ages and abilities.