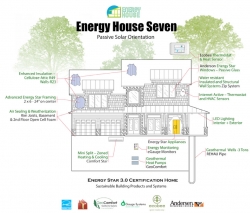 Arlington, VA, June 11, 2014 --(
PR.com
)-- Award-winning local green home builder Arlington Designer Homes has partnered with Energy House to host a free educational tour on energy efficient building this Saturday, June 14th, from 12:00 – 4:00 pm. Arlington Designer Homes, winner of the Northern Virginia Building Industry Association's 2013 award for "Best Green Home" is opening two of its new homes, located at 4033 N. 22nd St. and 2200 Military Rd. in Arlington, VA, to the public for a free, guided educational tour highlighting the latest in energy saving technologies, including advanced insulation packages, geothermal heating and cooling, mini splits, energy-efficient appliances and windows, energy monitoring, the construction process, and more.
Visitors to Energy Houses VII and VIII will have an opportunity to tour two very different energy-efficient homes, where they can learn about different green technologies, meet with numerous green building professionals, and even sign up for a free energy review of their own homes.
"When we host an Energy House tour, we literally open up our walls to show you how we do what we do," said Andrew Moore, President of Arlington Designer Homes. "These beautiful homes are going to save their owners thousands of dollars on energy bills, and we want to help people learn how they can do the same thing in their own homes," said Moore, a Certified Green Professional.
Arlington Designer Homes has partnered with the Energy House, a demonstration and education showcase, to offer its customers a complete energy use modeling and monitoring package before, during, and after construction. Energy House predicts that the heating and cooling costs for the approximately 5,000 square foot home featured on this tour will be just $64 per month. "We modeled this house and came up with a HERS (whole house energy rating) of 28, meaning that it is 72% more energy efficient than a similar-sized, traditionally built house," said Charley Juris, principle of BEA Energy House.
"Many people want invest in green technologies to save money, but they don't know where to start, and they want to make sure they will earn a significant return on their investment. We can help with that," said Moore.
Visitors can sign up for a free tour of Energy House VII and VIII in advance at www.energyhouse.us, or in person, June 14th at 4033 N. 22nd St., Arlington.
About Arlington Designer Homes
The 2011 Custom Builders Council Builder of the Year, Arlington Designer Homes is a small, family-owned general contracting firm that has been in business for over 25 years. Specializing in energy efficient and green building, Arlington Designer Homes has built more than 65 new custom homes in and around Northern Virginia and completed numerous remodeling and renovation projects. To learn more about Arlington Designer Homes, visit www.arlingtondesignerhomes.com.