VIRUN® & Pacific Deep Ocean Biotech Combine Natural Mineral Complexes with OmegaH2O® EPA and DHA for Foods, Beverages & Supplements
Virun, and Pacific Deep Ocean Biotech (PDOB), work together to provide mineral complexes that are derived from the ocean with Omega-3 EPA and DHA that deliver clean label claim and eco-friendly sustainable solutions. The combination allows a source for mineral complexes in VIRUN's patent and patents-pending technologies that naturally yield low metal content to avoid reactivity with omega-3 EPA and DHA, all-the-while delivering a consistent level of Calcium, Sodium, Potassium and Magnesium.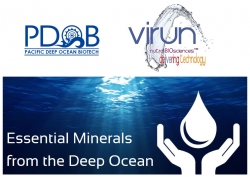 Walnut, CA, June 18, 2014 --(
PR.com
)-- Deep Ocean Minerals and Omega-3 EPA and DHA…
There has been a growing need to incorporate naturally sourced minerals into foods, beverages and supplements. To meet this need, VIRUN® NutraBIOSciences™ has sought to incorporate mineral complexes into its concentrates, powders and finished products. The combination of mineral solutions with Omega-3 EPA and DHA can be complex. Naturally derived mineral complexes can come paired with high levels of iron, or other metals, that can accelerate oxidation of Omega-3 EPA and DHA. To solve this, PDOB presented VIRUN with their Deep Ocean Mineral Complex, which contains no metal activity in connection with VIRUN's OmegaH2O® patent and patent pending technologies and compositions. VIRUN and PDOB conducted stability testing on several 16oz beverage applications, and concluded that applications containing Omega-3 EPA and DHA and 25% PDOB Deep Ocean Mineral Complex remain stable for at least year.
PDOB's Deep Ocean Minerals for liquid applications…
Liquid applications, such as beverages and shot-like supplements, are best formulated using the most water soluble ingredients available. Minerals, for example Calcium Citrate or Magnesium HCl, can sometimes be challenging in liquid applications, as sediment may appear in clear water beverages at higher concentrates. Using PDOB's natural mineral complexes derived from the ocean allows a "clear" solution for beverages and versatility in formulation.
VIRUN® Patent and Patents Pending Stabilization Technologies…
VIRUN processes their concentrates using patented and patents-pending technologies. One such technology incorporates mineral bicarbonate processes that help displace oxygen and chelate iron reducing oxidation which improves the stability of finished product applications, such as beverages. Cooperating with PDOB and PDOB's deep ocean mineral complexes allows VIRUN to use mineral complexes that are naturally sourced from the ocean. 70% of the Earth's surface is covered by ocean. Land sources for minerals are becoming depleted and the need to harvest minerals form their originated source are becoming more important. VIRUN now has a source to combine their processes and compositions to supply food, beverage and supplements combining PDOB and VIRUN technologies with healthful nutrients, such as Omega-3 EPA and DHA that are clean label claim, eco-friendly ingredients naturally sourced and sustainable. Tony Jacobs, MD of PDOB commented, "PDOB uses patented technology to utilize a resource that is inexhaustable, our minerals are sourced from the depths of the ocean and do not deplete our land sources. Working with VIRUN allows us the ability to combine innovative solutions to a growing market focused on clear and clean-label claim ingredients." Nina Parker, Business Coordinator at VIRUN stated, "we were amazed at the stability of PDOB's mineral complexes with our OmegaH2O®, their mineral complexes literally offered a one-to-one replacement of our current bicarbonate patent pending process and patented compositions. In addition, the mineral content in our compositions and beverage applications offer our customer's health claims that they would not otherwise been able to claim."
About VIRUN:
We are a Nutra-BioSciences™ company formed in 2003, headquartered in Walnut, CA, with an emphasis on safe and effective delivery technology for pharmaceuticals, dietary supplements, foods and beverages. Our aim is to focus on delivery both to the human body, via improving the efficacy of nutrients utilizing our patent and patents pending technologies. VIRUN's pharmaceutical and dietary supplement technologies allow improved bioavailability through nanotechnology and Transferrin conjugation that target specific cells within the body. VIRUN's Esolv™ and DPtechnology™ allow water-insoluble nutrients to be clear, water-soluble and stable in food, beverage and supplements. VIRUN's innovative solutions and brands include Omega-3 EPA DHA branded as OmegaH2O®, Resveratrol, CoQ10 branded as CoenzymeClear™, Astaxanthin branded as AstaxH2O™, PQQ branded as PQQwater™, Lutein, Phytosterols and Curcumin. Virun is a fully integrated research and production facility with manufacturing in CA and finished product processing in FL.
For more information about VIRUN, please visit or contact:
www.virun.com
innovate.today@virun.com
About PDOB:
For the last 10 years, the Directors of PDOB (Pacific Deep Ocean Biotech Co.) have been developing a new source of mineral nutrition from the deep ocean waters at the East Coast of Taiwan where it is uniquely possible to access from the shoreline. PDOB supplies standardized and customized deep ocean mineral compounds for the beverage and nutritional supplement industry supported by clinical research. Our team has upgraded the concentration process to produce a pure mineral and trace element concentrate (Liquid) that can be easily absorbed by the human body. PDOB has also developed a Deep Ocean Minerals Powder that can be formulated into heath supplement products. Our products are standardized on Magnesium and contain over 70 different minerals and trace elements. PDOB's Deep Ocean Mineral Complexes are supported by published scientific studies. The main applications for beverage are associated with fatigue relief and accelerated recovery after physical challenge. This has ideal synergy with the VIRUN ingredients, especially the OmegaH2O products. PDOB has its head office in Taipei, International Office in Germany and manufacturing facilities on the east coast of Taiwan. Our mineral solutions are certified ISO, HACCP, Kosher, and Halal.
For more information about PDOB, please visit or contact:
www.pdobiotech.com
info@pdobiotech.com
Contact
Virun, Inc.
Stephanie Bromley
909-839-0629
www.virun.com
innovate.today@virun.com

Contact
Multimedia
VIRUN offers novel ingreidetns for clearer water type beverages. Phosphatidylserine, Omega-3 EPA and DHA OmegaH2O, Resveratrol, Astaxanthin AstaxH2O, Sesamin, Curcumin, MCT and PQQ PQQwater
VIRUN formulates ingredients that emphasize specific health claims toward cognitive health.