Now Sun Damaged/Wrinkled Skin Can Regenerate
Skin could gain a "newness" with Collagen Regeneration Cream, from Reviva Labs, Haddonfield, N.J. The product uniquely repairs damaged collagen, as it helps produce new collagen. Reviva Lab's special Collagen Regeneration Formula (with Tissue Growth Factors) helps reverse sun damage and promote "healthy" collagen growth. (Formerly called TGF Beta-1 Cream.)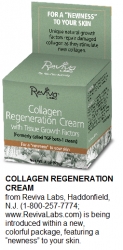 Haddonfield, NJ, June 20, 2014 --(
PR.com
)-- Damaged skin from the summer's strong sun could gain a "newness" with Collagen Regeneration Cream, from Reviva Labs, Haddonfield, N.J.
The product uniquely repairs damaged collagen, as it helps produce new collagen.
Reviva Lab's special Collagen Regeneration Formula (with Tissue Growth Factors) helps reverse sun damage and promote "healthy" collagen growth. (Formerly called TGF Beta-1 Cream.)
By blending Palmitoyl Tripeptide-3, a natural growth factor, with other growth factors and wrinkle-smoother ingredients, Reviva's unique formula can repair environmentally damaged collagen as it helps produce new collagen.
Competitor peptide, retinol, and collagen products can help stimulate collagen production, but their new collagen could copy sun or aging-damaged DNA cells, creating imperfect collagen replication. Competitive collagen stimulator products do not claim to repair damaged collagen.
Reviva's Collagen Regeneration Cream is distinct because it can both repair damaged cells and stimulates new collagen. So current imperfect collagen is "corrected" and new collagen flourishes.
This renewed collagen combination boosts moisture, improves tissue structure, can help reduce the appearance of wrinkles, and enhances overall skin tone and texture.
Collagen Regeneration Cream can be used alone or "layered" over various anti-aging serums, or combined with other anti-aging treatments in a beauty regimen.
For additional information, contact Reviva Labs, 705 Hopkins Rd., Haddonfield, N.J. 08033; Tel.:1-800-257-7774; Fax: 856-429-0767; or at www.RevivaLabs.com.
Note to Editor: A sample can be mailed to the Editor directly from Reviva Labs. Please let us know if there is a special name and address to whom an additional sample can be sent. Contact: Elena Cruz, American News Services, at 29 Bala Ave., Ste. 114, Bala Cynwyd, PA 19004; Tel.: 484-562-0060; E-Mail: adcomtimes@aol.com.
Contact
American News Services
Joe Ball/Elena Cruz
484-562-0060

Contact