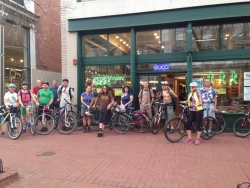 Boulder, CO, June 22, 2014 --(
PR.com
)-- Community Cycles gets $20 for each pair of Patagonia shoes purchased from the Pedestrian Shops or its website, comfortableshoes.com, between June 20 and July 6. The partnership is part of Patagonia Footwear's Advocate Weeks initiative, which helps retailers promote local conservation efforts.
To promote Advocate Weeks, the Pedestrian Shops on Pearl St. is hosting a window display designed by local artist Lori Mattina, highlighting Community Cycles and local bike culture. Lori is a graphic designer and illustrator who is passionate about painting. More information about Lori and her work can be found at http://www.morninglori.com.
Also in celebration of Advocate Weeks and Community Cycles, a "Bikes and Beers" bike clinic will take place at the Pedestrian Shops on Pearl Street on July 2. Volunteers from Community Cycles will teach basic bike maintenance and answer questions. Beer will be provided by Tommyknocker Brewery from Idaho Springs, and reusable aluminum pint glasses by Patagonia. "Like" the Pedestrian Shops on Facebook to be invited to this invitation only event.
In anticipation of the June 20 launch of Advocate Weeks, Community Cycles hosted a Family Bike Ride. Local bike enthusiasts of all levels met at the Pedestrian Shops and biked together to explore the Boulder Creek Path. Patagonia Footwear provided Klean Kanteen water bottles and organic cotton tote bags. After the ride, the group headed to the Boulder's Bohemian Biergarten to cool off with German beers.
Patagonia Footwear's Advocate Weeks has raised thousands of dollars for local nonprofits. In 2012 the Pedestrian Shops, Casey Middle School students, and the Scrap Sisters partnered with the Center for Resource Conservation. Growing Gardens was the 2013 beneficiary of Pedestrian and Patagonia Footwear's Advocate Weeks campaign.
Community Cycles promotes bicycles as affordable, viable and sustainable transportation that supports healthy and active lifestyles. They collect, repair and redistribute "waste" bicycles at their nonprofit bike shop and provide space for classes and workshops on bicycle care, repair, safe cycling and bike community. They help create 250 new bike commuters each year though the Earn-A-Bike program, reaching low-income individuals, and sponsor a Kids Holiday Bike Giveaway for 250 low-income kids and families. Community Cycles recycles more than 2,500 bikes a year. Its Advocacy Committee works with local decision-makers to create safe, accessible walking and biking infrastructure throughout Boulder.
The Pedestrian Shops are a locally owned family business operating two Boulder stores, as well as the website www.comfortableshoes.com. The Pedestrian Shops sell the world's most comfortable brands of shoes including Dansko, Birkenstock, Merrell and more. They encourage their customers to enjoy life and take a walk -- or a ride a bike.
On the Downtown Boulder Mall: 1425 Pearl, Boulder, Colorado. In the Village: Facing Folsom between Arapahoe and Canyon, Boulder, Colorado.