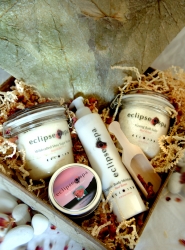 Danville, CA, October 17, 2007 --(
PR.com
)--
EclipseSpa
introduces green packaging options designed to complement the organic and natural EclipseSpa products.
Abaca Gift Bags
EclipseSpa's black bags are made from the Abaca, a plant indigenous to the Philippines. The fibers from this plant are considered to be the strongest of the natural fibers and have been used in textiles, baskets and market bags for centuries. Eclipse-Spa's tree-free paper Abaca gift bags with bamboo locks are hand crafted by artisans in developing countries using sustainable materials and non-toxic dyes.
Use these all-natural, attractive bags to add drama to any EclipseSpa gift.
Mesh Woven Gift Bags
Handcrafted in remote villages of the Philippines, the mesh woven gift bags contain only natural and sustainable fibers.
These gift bags create a fresh, natural feel to wrap around your EclipseSpa gift.
Green Leaf Boxes
If your gift requires sturdier packaging, choose a Green Leaf box handcrafted in the Philippines and made with banana leaves.
A Green Leaf Box will encase your EclipseSpa gift securely, giving it an elegant and traditional look.
Their Products
EclipseSpa products are specially formulated to appeal to people who want luxurious and natural bath and body products for themselves or to share with others. The product line contains herbs and additives that have been certified organically grown and have not been fumigated, sprayed, irradiated, or tested on animals. Every time you use an EclipseSpa product know that it is free from harmful ingredients.
EclipseSpa supports fair trade wholesalers, retailers, and producers whose members are fully committed to providing fair wages and good employment opportunities to economically disadvantaged artisans and farmers worldwide.
###