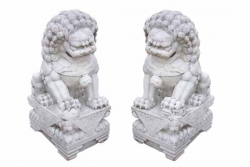 Dallas, TX, June 30, 2014 --(
PR.com
)-- Raymond Pittet; well-known Swiss born European architectural antiques expert and owner of Pittet Architecturals, a 30,000 square foot sales showroom in Dallas, Texas featuring museum quality mantles, fountains and doors dating from the 17th to 19th century to be used as décor accents in fine homes, gardens and businesses; is a big dog lover… statuary Foo Dogs that is.
Pittet explained, "Chinese guardian lions, often called 'Foo Dogs' in the Western world date from the Han Dynasty (206 BC-AD 220) and have for millennia stood guard in front of Chinese palaces, tombs, official buildings, temples and the homes of the wealthy. They have been associated with having powerful, almost mythical, protective benefits and even today original examples are highly sought after by interior designers and architects to add that rare and exotic feel to an affluent home or business décor."
The lions are found in pairs illustrating the ancient concept of yin and yang. When found in statuary, a pair includes a male resting his paw upon a sphere, representing supremacy over the world, and a female with her foot resting on a small cub was used as a symbol for maternal strength.
Pittet continued, "These particular Foo Dogs are very rare and hard to find. We know the value in the hard-to-find items for our clients, and take advantage of any opportunities that come our way. There are certain details that increase the value in statues like this, and both the granite and marble sets have what we like to see. My personal favorites are Foo Dogs that have both lions with a single pearl in each partially open mouth. Amazingly, the pearl is carved from a block of stone chiseled loose from inside the mouth and is too large to have been inserted in advance or be extracted. The effect is captivating, almost like the ship-in-a-bottle."
According to the tenants of feng shui, correct placement of the lions is the key to their effectiveness. When looking the same direction as the statues the male is on the left and the female is on the right. Pairs of these guardian lion statues are now common decorative and symbolic elements at the entrances to restaurants, hotels, supermarkets and other structures.
Tim Alexander, store manager added, "Recently we have been very fortunate to have two separate pairs of Foo Dogs in our showroom. They are a very desirable architectural antique, and their mysticism is contagious. The fierce looks on their faces combines with the delicacy of the craftsmanship and you can just feel the energy they radiate. People walk in and can't believe we have these rare statues, and other items just as rare, ready to purchase and install in their home or garden. Plus everyone wants to know how they got those round 'pearls' in their mouths!"
Pittet Architecturals is one of the leading importers of European architectural elements in the U.S. Its indoor/outdoor showroom in Dallas' vibrant Design District displays an incredible variety of hand carved antique marble, limestone mantels and fireplace surrounds, indoor and outdoor antique fountains, garden decor and furniture, antique doors, entry gates and more. With exclusive access to many of France's best recognized master stone carvers and artisans, Pittet Architecturals is Dallas' only resource for custom designed French limestone mantels, fountains and decor. Pittet Architecturals also imports the finest in reclaimed European stone and oak flooring.