POM and Total POM – a New Generation of Portable Tracking Device for Peace of Mind
Bringing Bluetooth, GPS, and cellular technologies together to create a low cost tracking device for your pets, children, and valuables.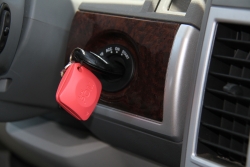 Phoenix, AZ, June 29, 2014 --(
PR.com
)-- Meet POM (Peace of Mind) – a new generation of tracking device that uses Bluetooth technology, doesn't need re-charging, and – unlike pure GPS tracking devices – POM works when missing pets, people, valuables go inside buildings.
Developed and made in the USA, POM and Total POM use proven cellular-based tracking technology developed by Eco PACT, creators of enterprise level tracking solutions, featuring aluminum pallets and shipping containers fitted with the same Bluetooth system (used by Tesla, Boeing, Kellogg, and more).
POM and Total POM is a small, square tracking tag, smaller than a key fob that attaches to your dog's collar, can be worn on the wrist, or attached to your key ring or handbag. Hide it inside your purse, your computer case, your golf club bag, your suitcase, your guitar. Wear it as a bracelet for children and at-risk adults.
POM's Kickstarter goal is to raise $75,000 to start production for this invaluable device that will prevent people from ever losing people, pets, and valuables again. A special "Early Backers" price of $15 is being offered to the first 250 backers. "Early Bird' pricing starts at $20 and is for the first 500 orders. For the remainder of the campaign, single POMs can be purchased for $25.
After the campaign, POM will retail for around $25. The POM Kickstarter campaign will run through July 2014 with the first product shipping in Winter 2014. Find out more about POM here:
www.totalpom.com
.
What makes POM and Total POM different from other tracking devices?
- No recharging of batteries – an enormous advantage for tracking devices. GPS-only systems require re-charging every 24 hours; the tracking system is useless if you forget to re-charge.
- POM has a three-year battery life expectancy with a replaceable battery
- Total POM has a 1-year battery life with a replaceable battery
- Very economical. No monthly service fee with first year, after that only $19.99 per year
Peter Johnson, POM's creator and CEO says, "We combine Bluetooth, Cellular and GPS tracking systems to give you ultimate coverage. Our POM link works like a 24/7 monitoring beacon for your home, office, or anywhere you choose. Existing tagging and tracking devices are restricted by Bluetooth's typical connectivity range of 100 feet and function on the expectation that someone else running their app will be within range to help locate it. Total POM adds GPS and Cellular tracking capabilities. Even if your treasures are out of Bluetooth range, with Total POM you can simply activate GPS and Cellular to get a precise location.
"In addition, the POM link works like a digital fence that tells you if e.g. your pet or your child has broken that 'barrier.' If the barrier is broken, you automatically get notified that someone or something is not where it should be."
POM and Total POM have the same functionality as other Bluetooth tags, allowing multiple people to keep tabs on important items.
Extra Features:
Sound Alerts: When you are close to your tag, you can initiate a sound alert to help you find the item (e.g. keys, purse, iPad, etc.)
Mark As Lost: If your item is out of range, you can mark it as "lost" and this allows other network users to securely help you find your item.
128 Bit Encryption: All your data is encrypted so you can rest assured that it is protected.
Log-in on multiple devices: If you don't have your smart phone handy, you can always log in to your account on a friend's phone to help find your items.
Sync multiple tags: Get tags for multiple items and sync them all to your account to track everything that matters to you.
Last known location: POM always stores the last known location of the item, so if you accidentally leave e.g. something behind, you can go back and get it.
About POM and Its Creators:
A product of Eco PACT (www.ecopact.com), a company that was founded in 2009 and manufactures aluminum pallets and containers for commercial use by a wide range of companies that require secure shipping and tracking in advanced industries, including blue chip companies such as Tesla, Kellogg, Boeing, and more. While marketing the commercial tracking solutions, Eco PACT was constantly asked for a consumer version, and so POM, Total POM and POM Link were born.
Peter Johnson – President of Eco PACT
Peter Johnson describes himself as a 'very driven and motivated individual' with a passion for developing relationships. "I strive to be the best in everything I do and all the ventures I'm involved in." Based in Phoenix, Arizona, Peter Johnson graduated from the University of Arizona. He started Eco Aluminum Pallets in 2009 to create a sustainable, durable, and lightweight alternative to wood and plastic pallets, aimed primarily at closed loop companies that needed to reduce pallet budgets, eliminate product damage and cut transportation costs. Eco PACT was founded in 2012 and is the parent company of Eco Aluminum Pallets, Eco Container Systems, and Eco Tracking. The companies manufacture solution driven sustainable products for the packaging, storage, shipping, distribution and manufacturing industries.
Rod Nakamoto - CTO of Eco Tracking, LLC,
Rod Nakamoto is the executive responsible for the design and implementation of new hardware and software technology for the consumer electronics industry. Rod also became a certified iPhone Developer/Publisher as well as an Android Developer/Publisher.
He was formerly the Senior Vice President of Product Development for Cheyenne Mountain Entertainment. He oversaw the building and managment of four development studios including SGW which was in production of an MMOG based on the popular TV-series, Stargate SG-1. Prior to that, he was the VP of Production for Kayak Interactive, Inc., a mobile game publisher. His responsibilities included Product Development, Platform Engineering, QA and New Business Development. Over the past 25 years he has held executive positions at a number of the prominent game publishers including Sega of America, Electronic Arts, Hasbro Interactive, Vivendi Universal Games and Namco. Rod has worked on and/or managed premier franchises such as Empire Earth, Nascar 2002/2003, Microprose Simulations, Games.com, Wing Commander and a myriad of other high-profile licenses and properties. Earlier in his career Rod founded two companies: Interactive Designs, Inc., which was acquired by Sega of America and Sweet Micro Systems, Inc. where he created one of the first sound/speech cards for the Apple II.
Contact
Eco PACT
Peter Johnson
480-779-4818
www.totalpom.com

Contact