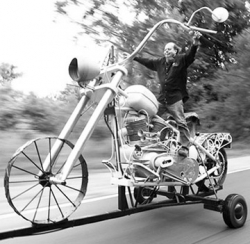 Detroit, MI, July 01, 2014 --(
PR.com
)-- This is your chance to take a 3 day road trip and party with Ron Finch all weekend! August 22, 23, 24 2014.
It is officially announced that legendary motorcycle builder Ron Finch will join the 4th annual Michigan Gumball Rally on a 1000+ mile, 3 day road trip in his customized Dodge Sprinter equipped with one of his motorcycles and towing his newest "Chopper at Large" giant art creation. Ron Finch is a legend in the motorcycle and car world for creating "metal art" and unique motorcycle builds that have been featured on Discovery Channel, prominent magazine covers and world famous museums.
The road rally invites any "road trip worthy" car or motorcycle to join the party which starts at Greektown Casino in Detroit, traveling to Firekeepers Casino in Battle Creek on Friday night, Kewadin Casino in Sault St. Marie on Saturday night and the rally will end on Sunday afternoon at the home and art studio of Finch's Customs, Pontiac Michigan. There will be 40-50 teams (approx. 100 people maximum) each with their own team name. Anyone can join but there is a fee for the hotels and expenses. Some teams work together and lower the costs of joining by finding local businesses to sponsor their team in exchange for advertising. The convoy of vehicles was called "Pure Michigan On Wheels" by Channel 7 news Detroit and promises a fun and affordable weekend to promote Michigan's businesses, tourism and charity.
Ron and his wife Ruth Finch recently released a DVD Documentary of his life's work called "That's All You Get" and you can just Google "Ron Finch" to get more information and see pictures of his work.
Information on joining or sponsoring the 4th annual Michigan Gumball Rally can be found on the official website AmericanGumballRally dot com, or contact Randy the organizer to reserve a spot by calling 248-835-5756.