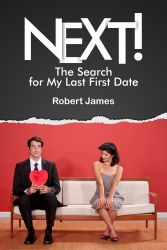 Orlando, FL, July 01, 2014 --(
PR.com
)-- "NEXT! The Search for My Last First Date," written by Robert James, is a hilarious, light hearted romance story about one divorced, middle aged man's quest for the next love of his life. Married jeans, internet dating, third date rule - Bob had a lot to learn with the women he met. He knows nothing about modern dating, and nothing about modern women. The book goes through the highs and lows, the definitely odd and bizarre, the funny and heart breaking, and the timing and chemistry of dating. Knowing that his happily ever after could be NEXT!
A top reviewer at Amazon.com says about "NEXT! The Search for My last First Date": "James walks us through his own trials and assignations with internet dating, referred dates for friends, aggressive women, testy women, church ladies who could challenge lap dancers, misleads, near hits, weird situations and encounters, and downright hilarious situations that no one could have created had they not been there done that. Every page is a source of entertainment - a book of short 'chapters' that makes for good bedside chuckling without expending a lot of energy. Yes, it is laugh out loud funny…Robert James writes so well he should provide further books on his thoughts about contemporary society. Recommended - for both men and women."
Robert James lives in Orlando, Florida. He is available for interviews and can be reached at
info@nextthebook.com
or 407-416-3000. For more information please visit
www.nextthebook.com
.
· Paperback: 182 pages Hardcover $29.99
· Publisher: XLIBRIS (May 28, 2014) Softcover $19.99
· Language: English
· ISBN-10: 1499022050
· ISBN-13: 978-1499022056
· Product Dimensions: 0.4 x 5.9 x 8.9 inches
Available for sale at Xlibris.com or all major online booksellers.
Contact: Robert James
Phone 407-416-3000
info@nextthebook.com
www.nextthebook.com