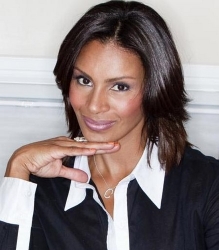 New Orleans, LA, July 03, 2014 --(
PR.com
)-- Chenoa Maxwell, star of Oprah Winfrey Network's (OWN) Love In The City, hits the Big Easy this holiday weekend to share her life story. Maxwell will offer lessons learned along the way to becoming a Hollywood leading lady to world renowned photographer and now genre changing docu-series star. ESSENCE Magazine has invited Maxwell to inspire audience members to Live Limitlessly™.
Maxwell will be speaking at the Essence Empowerment Experience on Friday, July 4. The event is free to the public and will be held at 11 a.m., doors open at 9 a.m. at the New Orleans Convention Center. Maxwell will be sharing the panel and larger discussions featuring Alicia Keys, Bishop T.D. Jakes, Congresswoman Maxine Waters, Celebrity Chef Roble, Steve Harvey and a host of other policy makers, civic leaders and entertainers.
Maxwell's message is a personal call to action to those in the audience to become designers of their own lives. She provides actionable tools and steps to break through the glass ceiling of personal boundaries to move outside of one's comfort zone. Living Limitlessly™ is a change of mind-set that is more accessible than we think. Maxwell's personal perspective, playful humor and approachability provides the audience with an entertaining, thought provoking and moving experience.
Maxwell is an acclaimed actress, photographer and producer. She first burst into stardom in her memorable role in Miramax's cult classic, Hav Plenty. Maxwell's passion lead her to pivot behind the camera. Maxwell's photography has enjoyed two solo exhibits in LA and NYC. She has captured portraits that scale the range of icons such as Annie Leibovitz to Shaquille O'Neal. Maxwell continues to hone her photography craft presently with her latest project capturing the images of the re-launch of the fashion house Girbaud.
The embodiment of Living Limitlessly™, Maxwell has made a return to TV in 2013 becoming one of Oprah Winfrey's celebrity fan favorite stars from the docu-series Love In The City. Maxwell is also the creator/executive producer and host of the anticipated celebrity web series, Closet Talk™.
Event Information:
www.essence.com/festival/schedule/list/speaker/all
Friday, July 4, 2014
11:00am
Convention Center
New Orleans, LA
Free to the public