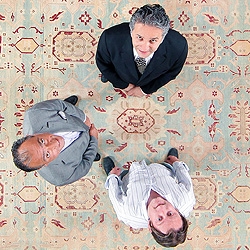 New York, NY, July 10, 2014 --(
PR.com
)--
The Nazmiyal Collection, a New York City based antique rug gallery
, has been featured in Art Daily. The piece, which also includes an extensive interview with the owner of the Nazmiyal Collection, Mr. Jason Nazmiyal, examines the impact that emerging technologies have had on the sales in the art world and how the Nazmiyal Collection has been leveraging these rapidly changing technologies to grow their business.
Citing the nature of this change, Mr. Nazmiyal is quoted as saying: "Whether it be antique rugs, or any other product, customers do their due diligence and conduct research online before making a purchase. They search, they research and they compare before making a decision."
"They check social media, search engine rankings and reviews. They want value and are looking to buy the best products for the best possible price. This approach especially applies to luxury goods such as antique rugs, where pricing may be a bit ambiguous," explains Mr. Nazmiyal.
Founded in 1980, the Nazmiyal Collection have grown into one of the leading voices in the antique rug industry - owing in no small part, the Art Daily profile explains - to a commitment to technology and an appreciation for the changing nature of doing business brought about by the Internet.
The Nazmiyal Collection's extensive website, which may be viewed at http://nazmiyalantiquerugs.com/, consists of
thousands antique and vintage rugs
which are available for sale as well as one of the largest resources about the history, background, and cultural relevance of dozens of rug-producing regions.
You may read the article in its entirety at:
http://artdaily.com/news/71275/The-world-of-buying-rugs-has-changed--How-Nazmiyal-antique-rug-gallery-advanced-with-their-online-marketing