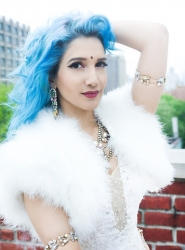 London, United Kingdom, July 22, 2014 --(
PR.com
)-- Sukki Singapora, Singaporean Burlesque Artist and Global Ambassador of anti-forced marriage charity the Sharan Project, will be attending the Girl Summit in London today.
The controversial Asian role model and International "Burlesque Queen" is also a Women's Rights Activist, and campaigner for freedom of expression through her own society (The Singapore Burlesque Society).
Sukki Singapora has gained phenomenal international recognition for standing up for freedom of choice in her native Singapore. Such was her worldwide support in standing up for female liberation that her work caught the attention of London's Asian Women of Achievement Awards, and led to her becoming the first Burlesque Artist in the World to be invited for tea at Buckingham Palace in commendation of her work. It was here that she met founder Polly Harrar of the Sharan Project, who invited her to become Global Ambassador of her charity and to become a spokesperson for the Harnessing Change campaign.
The Sharan Project provides support and assistance for women to achieve a successful independent life without fear. Polly has worked closely with David Cameron to campaign against forced marriages and for the right for women to have the freedom of choice in the UK. The act of forcing someone to marry has finally been made a criminal offence in the UK this year.
Sukki Singapora, says, "As a Global Ambassador, I've been fighting for action on this issues over the last year. I feel both proud and determined today that David Cameron and the UK government have answered our voices. For me and the path I've trodden, it represents the basic right for a woman to take control of her life. It couldn't be simpler. We need to end this."
Notes to Editors:
About Sukki Singapora:
Crowned "one of the Most beautiful women in Burlesque" (Female First), an "Asian Role Model" (The Independent) and "Ambassador of Burlesque for Singapore" (Chwennyland), Sukki is also a role model for Asian women and men in the Arts. Nominated for London's Asian Women of Achievement Awards, she was praised by former UK PM's leading lady, Cherie Blair and BBC correspondent Reeta Chakrabarti. Her outstanding achievements lead to a Royal Invitation to Buckingham Palace – the First Burlesque Performer in the world ever to be invited for tea by the Royal family.
About Sharan Project:
The SHARAN project, established in 2008, is a U.K. based charity which seeks to provide support, advice and create a forum of women, particularly of South Asian origin, who have left home forcefully or voluntarily. This could be partially or wholly as a result of disownment; potential, perceived or real threat of domestic or honour-based violence; forced intercourse and or marriage; persecution over sexual preferences; or indeed other forms of cultural conflict.
Key Stats from Sharan:
* 1 in 4 women experience domestic violence in their lifetime
* 2 women each week are murdered by their partners or ex partners in the UK
* Approximately 85,000 women are reportedly raped in England and Wales every year
* South Asian women are 4 times more likely to self-harm than in the general population
* It is estimated that up to 17,000 women in Britain are subjected to 'honour' related violence
* 1 woman every month is reportedly murdered due to so called 'honour killings' in the UK
* The Forced Marriage Unit deals with approximately 1,300 forced marriage cases each year
* An estimated 1,000 British Asian girls are forced into marriage each year
Media Enquiries:
Marie Ellis, Publicist
E: press@sukkisingapora.com | / +44 (0)7454 222 611
Connect with Sukki:
Facebook: www.facebook.com/SukkiSingapora
Twitter: @SukkiSingapora