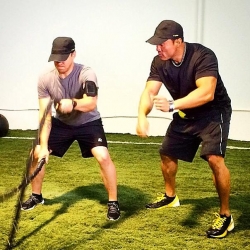 Dallas, TX, July 23, 2014 --(
PR.com
)-- Over the last 15 years, John Lee has starred in best-selling fitness DVDs; built cutting-edge training centers and fitness platforms; founded a non-profit organization focused on fitness, health and wellness; created a social media platform to connect fitness professionals with their clients; and helped hundreds of professional athletes, pageant participants, endurance athletes, MMA fighters, fitness competitors and "regular Joes" achieve their goals.
But he's never come across a fitness monitor like the Spree SmartCap.
"I've tried virtually every fitness gadget you can imagine, and the vast majority of them have left me unimpressed," said Lee. "But when I was introduced to Spree Wearables, and their innovative SmartCap, I knew it was a game-changer. It's the only product I've seen that combines next-generation technology with a training app that truly helps motivate and encourage success."
Recognized as a "Best in Show" product by Sports Illustrated at the 2014 International Consumer Electronics Show in Las Vegas, Spree is the first and only fitness device that tracks heart rate without the use of a cumbersome chest strap, and monitors body temperature, movement and a variety of additional metrics as well. The Spree SmartCap is so easy to use and comfortable, it does what most wearables fail to do: Become an extension of the individual athlete.
"They call it 'the world's smartest fitness monitor,' and it's easy to see why," continued Lee. "It accurately measures and tracks all the metrics any serious or aspiring athlete needs to know and presents the data in an easy-to-use smartphone app. The fact that it enables you to shed the chest strap is another huge bonus for most of us that find them to be irritating and uncomfortable."
Lee, 33, has a unique and distinguished resume in the fitness world. He is the founder and director of Everlasting Impact LLC, a not-for-profit created to help the next generation of educators, mentors and role models become physically and mentally strong through the lifestyle of fitness, health and wellness. He is the co-owner of MPK Global LLC, an umbrella corporation created to build and spread fitness platforms around the world. Lee is also the co-owner of Jotega LLC, a company created to bring to market an innovative social media-based mobile Internet platform that connects fitness professionals with their clientele base in real time.
Since the age of seven, Lee has trained in a wide variety of sports and disciplines including wrestling, Muay Thai, high jump, long jump, Kung Fu, bodybuilding and gymnastics. He was one of the cast members of BodyBeast, a DVD series from the creators of other popular fitness products such as P90X, Insanity and shakeology. Lee has also appeared in multiple national ads for respected brands in the sports nutrition industry.
"John is exactly the kind of athlete we wanted to represent our brand: accomplished, respected, experienced and knowledgeable," said Peter Linke, president of Spree Wearables. "Most important, he is a true believer in how the Spree SmartCap can be used to help anyone that's serious about their fitness to achieve their goals."
Developed by Dallas-based Spree Wearables, Inc., the Spree SmartCap leverages its patented biosensor technology to analyze the three most important variables in every fitness routine – body temperature, movement and heart rate – all in one easy-to-use device. The unique design measures directly from the forehead using medical grade technology. The SmartCap also insulates from the sun, and because the device measures temperature as an added component, it provides a true measurement of caloric burn along with heart rate.
"The forehead is the ideal body surface to accurately measure body temperature as well as a great place to measure heart rate," added Linke. "There is no other product that can offer this type of data – never mind in such a comfortable wearable. No wires, no chest strap…just put it on and go."
Lee will be using the SmartCap in all of his training courses and appearing at fitness shows on behalf of Spree Wearables. He will also be appearing in videos demonstrating the product and offering tips on how to integrate it into various fitness regimens.
The Spree SmartCap is now available for purchase online at SpreeWearables.com and soon on Amazon.com.
About Spree Wearables
Based in Dallas, Texas,
Spree Wearables
, Inc. is a leading provider of wireless biosensor solutions, including the revolutionary Spree SmartCap. Its patented and proprietary systems are at the forefront of performance measurement systems and are currently used to help prevent heat-related illness in athletes, firefighters and industrial workers. Spree Wearables is a wholly owned subsidiary of IDENTEC Group AG (identecgroup.com). Spree Wearables' solutions have earned national recognition, including Popular Science magazine's prestigious "Best of What's New" Award.