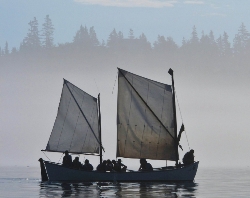 Camden, ME, July 22, 2014 --(
PR.com
)-- The Hurricane Island Outward Bound School (HIOBS), a Maine-based nonprofit educational organization, is celebrating its 50th year with an Anniversary Bash, a benefit dinner and art auction, on Friday, August 22 at Point Lookout Resort in Lincolnville, ME. Endorsed by renowned art critic and writer Carl Little, the auction will feature artwork from more than 30 notable artists with ties to Maine and HIOBS, including: Eric Hopkins, one of Maine's most renowned artists, whose work graces collections around the world, and who is also an alumnus of Outward Bound, Kevin Beers, named one the 60 most important artists in Maine, Joyce Tenneson, considered among the 10 most influential women photographers in the history of photography, Lois Dodd, an elected member of the American Academy and Institute of Arts and Letters and of the National Academy of Design, and T. Allen Lawson, master landscape artist acknowledged by Plein Air Magazine as an artist certain to show up near the top of lists of "the painters most admired by other painters."
Other artists and photographers include Joel Babb, Sam Cady, Dan Corey, Phillip Frey, Jill Hoy, Alison Hill, Janice Kasper, Colin Page, John Santoro, Marianne Smith, Emily Trenholm, Susan Headley Van Campen, Greta Van Campen, Jessica Ives, Mary Bourke, Monica Kelly, David Little, Ed Nadeau, Chris Pinchbeck, Peter Ralston, Barbara Goodbody, Rick Perry and Cooper Dragonette.
On August 9, about 20 of these artists will participate in the 50th Anniversary Art + Auction Invitational. Artists will convene on Hurricane Island—the 180-acre Penobscot Bay island where HIOBS was founded by Peter Willauer in 1964 and is currently home to the Hurricane Island Foundation's Center for Science and Leadership—to create original work en plein air to be auctioned at the Bash.
Eric Denny, Executive Director for the Hurricane Island Outward Bound School states, "We are honored to have such a talented and diverse group of artists contributing to our event. Many of them have been directly impacted by HIOBS as a former student or staff member."
The public is invited to purchase tickets for the Bash and participate in the auction by visiting
www.hiobs50.org
. A silent auction will begin over cocktails and continue through much of the evening on August 22. The evening will culminate with live bidding for a handful of selected pieces. Proceeds from the artwork will support getting students on HIOBS courses.
The Hurricane Island Outward Bound School has been changing lives through challenge and discovery since 1964, when it was established on the coast of Maine as the first sea-based Outward Bound school in the U.S, and now runs sailing, backpacking and canoeing courses in Maine and Florida for students ages 14+. HIOBS is part of the US network of independent Outward Bound schools whose wilderness expeditions help people discover strength of character, an ability to lead and a desire to serve. Outward Bound was founded in 1941 by educator Kurt Hahn, to train young British sailors to survive lifeboat situations by demonstrating through open boat sail training that there is more in them than they thought possible.