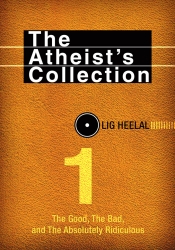 New York, NY, July 26, 2014 --(
PR.com
)-- During his debut promotional release, Lig Heelal's eBook "The Atheist's Collection – The Good, The Bad, and The absolutely Ridiculous" has had over 500 downloads from readers worldwide, and on Friday, displayed the following rankings:
#1 in Kindle Store > Kindle eBooks > Nonfiction > Politics & Social Sciences > Philosophy > Logic & Language
#2 in Kindle Store > Kindle eBooks > Religion & Spirituality > Atheism
This noticeable public interest in the release of the first volume of "The Atheist's Collection" written by Lig Heelal, may be one of the signs that gauge the exponential rise of Atheism around the world.
"This eBook shares pieces of my past debates with everyone. It's targeted to all three major groups of the beliefs arena… People on the fence (which is, in my opinion, another term for skeptics) can read the book and chew on the logic behind the discussions; Atheists who are missing some rebukes might find some answers they can use in their own discussions; and believers, particularly Christians who have the seed of inquiry hidden in their minds might reject my views at first but they will keep on reading IF they can identify their own silent questions among the pages," says Heelal.
Lig Heelal, Atheist debater and philosophical writer living in New York, made his debut eBook "The Atheist's Collection – The Good, The Bad, and The absolutely Ridiculous" available for free to download on Amazon's Kindle store from July 21st to July 25th. It was an effort to introduce this first volume of the Atheist's Collection series to the public. The eBook is a collection of the most unbelievable declarations from believers and Lig's answers to those claims.
The eBook has had positive, 5-star reviews from two experienced Authors:
-"A must read for believers and non-believers," says Bito David, author of 'SPECULATIONS: L'homme, Dieu, La Vie, Le Monde et La Société (French Edition)'
-"This book, unlike many others, allows you to see the world from a different perspective. This book is very insightful and eye-opening. Very well written and brings up some good points. I proudly recommend this book to whoever is in for a great read," says Moriel Khaykin, author of 'Quit Smoking Naturally: The Ultimate Guide To Naturally Overcome Severe Smoking Addictions and Habits For Life'
This Saturday, July 26th, the eBook is back to its pre-promotion price of $0.99. Feel free to search Amazon's Kindle Store for "The Atheist's Collection." Lig Heelal can be reached for questions and comments via his Facebook page (facebook.com/ligheelal).