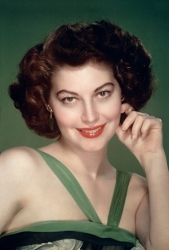 Smithfield, NC, July 30, 2014 --(
PR.com
)-- Megan Fox and Jennifer Lopez claim their admiration; Marcia Gay Harden and Kate Beckinsale played her on the big screen. Today, nearly 25 years after her death, designers, stars, and fans continue to emulate the sultry elegance of Ava Gardner's fashion style.
Ava went to Hollywood in 1941, a beauty from North Carolina with her college threads and saddle oxford shoes, but just a few years later she graced hundreds of magazine covers, played on-screen sirens, and was coined one of the world's most beautiful women. She had the glamour and style that photographers begged to capture and fashion designers clamored to dress. She is listed 25th among the American Film Institute's Greatest Female Stars.
"The Fontana Sisters of Rome, Walter Plunkett of Show Boat-fame, Irene Lentz, Edith Head and Christian Dior are just a few to design costumes and personal clothes for Ava," stated museum director Deanna Brandenberger. This year's Ava Gardner Festival, October 3-5, will open a new exhibit entitled Ava's Closet which will showcase the personal fashion of Ava Gardner.
Friday night's Fashion Fling will officially open the new Ava's Closet exhibit with two new cases: one for evening wear and the other for Ava's casual clothing and accessories. A reception with Sinatra-style entertainment by the Carolina Crooner, hors d' oeuvres and beverages will provide the "fling" for the evening. Ticket prices are $25.00 person and the event is the museum's annual fundraiser to support the operation of the museum.
On Saturday, Oct. 4, festival goers will enjoy the new exhibits, a Heritage Tour, and free movie screenings of The Killers and The Life and Times of Judge Roy Bean showing at 10am and 2pm respectively. Another tribute to John Huston, The African Queen will run on Sunday at 3pm. The tribute to John Huston follows the choice of the NC Museum of Art in Raleigh to show "The Maltese Falcon" on Friday, Oct. 3 in their "Mad, Bad and Dangerous to Know" film noir series. The festival organizers decided to continue film screenings all weekend for Huston fans.
Heritage tours on Saturday, October 4th will be held throughout the day beginning at 9am, 11:30am, 1:30pm and 3:30pm. The guided tour will take visitors to Ava's birthplace, to the Brogden Teacherage where she grew up, and to her gravesite at Sunset Memorial Park. All-day admission to the Ava Gardner Museum is $8, and heritage tour tickets are $15. On Sunday Oct. 5, the museum will have extended hours from 1pm to 6pm.
On Saturday, Oct. 4, the museum has partnered with the Clayton Piano Festival whose theme this year is classical music from the movies. The festival organizers are working with renowned artist and Clayton native, Jonathan Levin to pay tribute to Ava Gardner with a song from Show Boat and a selection of other musical influences from Ava's movies. The festival will be held at The Clayton Center and begins at 7pm. Coffee and desserts will be served after the concert with a meet and greet with Azamat Sydakov, the featured pianist. Tickets are $20.00 per person plus taxes and fees, and are available online at www.theclaytoncenter.com on August 6th.
To make the festival events easier to purchase, the museum is offering the Ava's Closet Festival Package that includes Friday's Fashion Fling, museum admission all weekend, one heritage tour pass, and one Clayton Piano Festival ticket for $75.00 per person plus tax. This offers a savings of 12% off the purchase of full ticket prices. The museum is located at 325 E. Market St., Smithfield NC and for more information call 919-934-5830 or go online, www.avagardner.org
For hotel and visitor information on Smithfield/Johnston County, contact the Johnston County Visitors Bureau to receive a free visitors guide and Ava Gardner Festival Brochure, 1-800-441-7829 or www.johnstoncountync.org/avagardner.