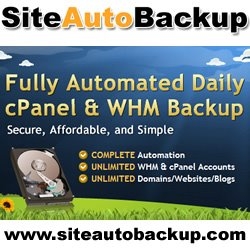 Langley, Canada, August 04, 2014 --(
PR.com
)-- To date, SiteAutoBackup.com has saved more than 6.5 million backups across thousands of servers around the world, every day.
The company is giving an opportunity for anyone to sponsor people who want to be more responsible in keeping their own backups, but are lacking the funds to actually pay for a reliable backup service on top of their web hosting bill.
SiteAutoBackup has successfully sponsored over 500 accounts within a few hours of launching their project at Indiegogo.
SiteAutoBackup.com welcomes anyone to participate in this exciting project and grab a piece of the 10,000 GB giveaway on their Indiegogo page:
http://igg.me/at/sab
There is a big return in participating in this "backup raising" project.
More backup space for the sponsor (for a one time sponsorship contribution).
SiteAutoBackup will match the number of backup accounts sponsored and add the same disk space to the sponsor's existing or new SiteAutoBackup account.
The perk comes with no recurring charges whatsoever.
Secondly, a customized sponsorship message from the sponsor.
The sponsor will get to type in their own sponsorship message with a link to their own defined web page.
For example, on top of all the backup panel interface of the sponsored account will show: This backup account is sponsored by "Sponsor's message here combined with a link to a defined web page."
Welcome emails, backup email notices, and backup panel interfaces will be branded by a custom defined sponsor's message.
Sponsors can give away these free sponsored accounts to anyone they wish (friends or customers), or just give it away to anyone who is signing up directly at SiteAutoBackup.com.
Long term partnership opportunity is in place as well.
If the sponsor choose to give away the sponsored accounts to friends or customers, SiteAutoBackup will provide the sponsor with a special link for others to redeem/get their sponsored accounts.
If the sponsored account ever outgrew the 1 GB of backup space and upgrades to a larger account, the sponsor will get 50% of all income paid by that person, for the entire life time of their account.
SiteAutoBackup strongly believe in partnership and will not waste any effort made to make others be responsible of their own backups.
SiteAutoBackup.com welcomes anyone to participate in this exciting project and grab a piece of the 10,000 GB giveaway on their Indiegogo page: http://igg.me/at/sab
About SiteAutoBackup.Com
It simply works. For more than 5 years now, SiteAutoBackup has successfully backed up regular hosting accounts, reseller hosting accounts, VPS hosting, dedicated servers, and even cloud based hosting platforms.
The service backs up everything, including files, databases, email accounts (and all email messages in it), logs, stats, every single hosting configuration.
The best part is members can move in to any cPanel web hosting provider (if they see that their current web host is not up to their standard) any time.
With these capabilities, users will never, ever get held back by their web host when it's time to move on.
Currently SiteAutoBackup is being used by thousands of web developers, bloggers, internet marketers, web hosting resellers, web designers, and even web hosting providers who love the power and simplicity of this backup service.
For more information about this press release, contact:
SiteAutoBackup.Com
support[at]siteautobackup.com
Langley, BC, Canada