"Rainbow and Friends Love One Another" New Book Launched
Word of mouth is spreading...Nicolette's book just launched and is available now nationwide on Amazon.com, Barnes and Nobles, etc. With several successful book signings in San Luis Obispo, Pismo Beach, Arroyo Grande and Grover Beach, books are selling quickly. Animal lovers and children especially are loving this adorable cat getting along with chickens book.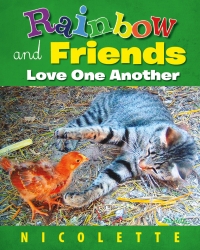 Pismo Beach, CA, August 05, 2014 --(
PR.com
)-- We are hearing of many cute stories of children telling their parents: "Turn the page! Turn the page!" and "I Love it! Read it again!" A book was donated for the public to read at a non profit doctor's office and a 7 year old boy refused to let go of the book when it was time to leave. Clutching the book with tears in his eyes, he told his mommy and staff, "But I love it!"
Nicolette enjoyed raising chickens for 20 years with her 3 children. She often gave fresh colored eggs away as gifts to her friends at church, arranged on hay, topped with fresh lavender, in a small zipped plastic bag..which they loved.
Nicolette's book includes 55 pictures of her new loving cat getting along with her 4 chickens when she and her youngest son lived on a 10 acre horse ranch in Arroyo Grande, near Cypress Ridge Golf Course. Some pictures she hand painted on canvas and have hidden Bible Verses which are also shown in the book. Horses, sunsets, colored eggs, baby chicks, her son with Rainbow and Rainbow getting along with each chicken are just some of the pictures she captured that you can enjoy in her colorful book. They will bring a smile to your face.
In this time of much violence and hate, Nicolette is spreading the Love One Another theme. She believes we all need to respect one another, appreciate differences and learn to get along; to Love one another and hug it forward.
For copies of her book, contact Nicolette: (805) 710-3090
Price: $11.99
For more information go to: www.Nicolette.tateauthor.com
Nicolette: Author, Artist, Photographer and Realtor with Keller Williams Realty Central Coast in Pismo Beach
Contact
Abundant Life Art
Nicolette Woltman
805-710-3090
www.Nicolettesart.etsy.com
www.Nicolette.tateauthor.com
P. O. Box 1803 Pismo Beach, CA 93448

Contact