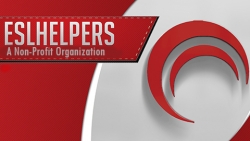 Los Angles, CA, August 14, 2014 --(
PR.com
)-- ESL Helpers is proud to introduce itself to the non-profit community. Its mission is to make access to quality English language instruction available and affordable. While there are many places to study English on the Internet, most of them are led by people who are not teachers, or who do not speak English well.
ESL Helpers uses only certified teachers; that is, teachers who have earned a valid teaching credential in the United States. All teachers are trained in teaching English as a Second Language (ESL) and all teachers are native American English speakers.
ESL Helpers offers many free resources on their website (www.eslhelpers.org) including video lessons, practice exams and blog posts. It also is proud of its active Facebook (English Helpers) and Twitter (@eslhelpers) accounts
Because of their donors and volunteers, they are able to offer English conversation classes with only 5 students and one teacher. The cost for this is just $5 for 1 hour of instruction.
ESL Helpers believes that learning English is a right, not a privilege of the wealthy. Today, English is the language of business. To have a successful life, many people in the world must speak English fluently. Their mission is to make this possible.
Register for Online English Classes