Conference of Celebrity Impersonators in Orlando
Over 100 Professional Celebrity Impersonators from Barack Obama to Cher to Bette Midler and Lady GaGa will travel and perform in Orlando, Florida for the 12th Annual Sunburst Convention of Celebrity Impersonators at The Florida Hotel & Conference Center. They network, showcase and party for over 3 days. September 24-28, 2014 in Orlando, FL.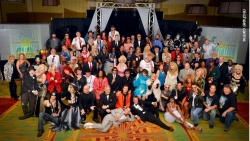 Orlando, FL, August 20, 2014 --(
PR.com
)-- September 24-28, 2014
Orlando will soon be invaded by a multitude of Marilyns, a plethora of Presidents, a throng of Tina Turners, and it's fair share of... Chers, as the city beautiful becomes home to The Sunburst Convention of Celebrity Impersonators from September 24-28, 2014.
The Florida Hotel and Conference Center will be the host hotel for the event.
The Sunburst Convention will provide entertainers the opportunity to showcase as well as offer their services and talents to the ever-growing market and demand for convention entertainment, live shows and event entertainment all over the U.S. and Canada, as well as worldwide.
Celebrity Impersonators are not limited to Las Vegas casinos anymore. Private events, functions, conventions and corporate retreats often feature celebrity impersonators as entertainment, atmosphere or as spokespersons for any and all occasions. The Sunburst Convention has become the premiere event for this unique group of entertainers.
Unlike most conventions, which usually limit attendance to registered participants, The Florida Sunburst Convention will open its doors to the public and invite them to purchase spectator's passes for the agent showcases, giving Orlando audiences the opportunity to see their favorite celebrities recreated onstage by the best talent in the nation.
Contact
The Sunburst Convention
Greg M Thompson, Producer
407-226-9088
www.sunburstconvention.com

Contact