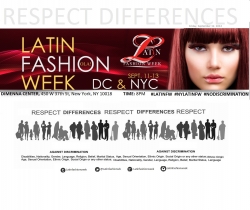 New York, NY, August 25, 2014 --(
PR.com
)-- Every year New York Latin Fashion Week® "NYLATINFW" uses the power of fashion week to support extraordinary causes; this year's theme is No Discrimination, with the slogan to Respect Differences.
Why this theme? Latin Fashion Week® is a diversity inclusive company, touched by many special individuals, with disabilities, obesity, blindness, deafness and different social statuses that have the potential to offer a vast amount of things to the community.
The objective is to start a long unforgotten conversation about human rights; A discussion about how to incorporate our differences in the community, especially the fashion world.
"Designers, from Latin America and around the world have used fashion week as a platform for dressmakers to show the world their most recent designs, are coming together to provide a voice and to create an unprecedented event to celebrate the disabled and frowned upon community," says Sobeidy Vidal, founder of Latin Fashion Week.
For three consecutive years New York Latin Fashion Week® has had the presence of global designers.
That's why, for this fourth version of the New York Latin Fashion Week® "NYLATINFW" that is to be held from September 11 to 13 at The Dimenna Center, 450 W 37th St, New York, NY 10018, designers such as Douglas Tapia from Venezuela, Julissa Peralta from Dom. Rep., Sonia Santiago from Puerto Rico, Francine Schulze from USA, Tony Boga from Dom. Rep., Giannina Azar from Dominican Republic, Lubna Najjar from Ohio USA, Jamila Dahabreh from Perú, Damaris Rubio from Dominican Republic, Mitzy from and México, Adriana Echeverria from Bolivia, just to mention a few; united in favor of supporting the no discrimination movement in the corner stoning of people with disability and to help raise awareness of respecting differences.
New York Latin Fashion Week invites the community to be part of this issue resolution and climb aboard NYLATINFW's platform to show the world your support for the disabled community.
All humans are create equal in front of God and the law.
No Discrimination, Respect Differences!