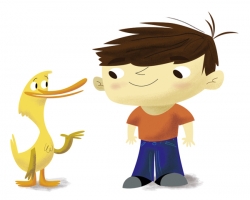 Washington, DC, September 23, 2014 --(
PR.com
)-- Little Big Kids, an up and coming cultural lifestyle brand for young Muslim kids, is proud to announce the release of their newest storybook, "Ilyas & Duck and the Fantastic Festival of Eid Al-Fitr." It's a delightful story about a boy named Ilyas and his best friend Duck as they explore the excitement of Eid, while learning about the holiday's charitable nature.
Like many great stories, this one comes with an interesting spin. Cleverly weaved into this story about Eid are reference to Christmas and Hanukkah. It's a fresh approach to storytelling in an otherwise banal Islamic children's book market. "Muslim kids in the US grow up surrounded by many great holidays and traditions from other faiths," said author and founder of Little Big Kids, Omar S. Khawaja. "So when writing this book it was important that I placed Eid in a context that they can relate to." By incorporating other highly festive holidays in a book about Eid, Khawaja's hope is to "elevate the fun and importance of a holiday that is an exciting time for young Muslim kids."
This is the company's second storybook under the banner of what has quickly become a very popular Ilyas & Duck series. The innovative stories follow the adventures of two loveable characters, Ilyas and Duck as they explore the world around them while conveying positive messages that help build strong identities in young Muslim kids.
Now with two titles, Little Big Kids is transforming the Muslim children's literature market. The San Diego State University's Dept. of English and Comparative Literature said the first book "demonstrates the universality of beliefs in a colorful and educational adventure." The dynamic characters, engaging storyline, and positive lessons helps satisfy both the needs of young readers and concerned parents looking to bring in quality literature to their bedtime repertoire.
About Little Big Kids
Little Big Kids is a US based cultural lifestyle brand for young kids, centered on Arabic and Islamic themes. Established in 2007, our goal is to incorporate beautiful Arabic and Islamic inspired themes into common products that are an everyday part of your child's life. For more information about Little Big Kids, call 703.957.0591 or email ok@littlebigkids.com.