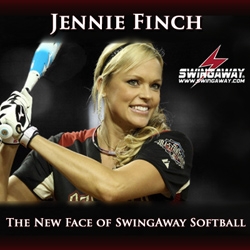 Marietta, GA, September 17, 2014 --(
PR.com
)-- SwingAway Sports Products, Inc., has signed a multi-year endorsement deal with fast pitch softball superstar, Jennie Finch. The 3 time All- American and Gold Medalist, described by Time Magazine as the "Most Famous Softball Player in History," joins the Washington Nationals All-Star, Bryce Harper, in representing SwingAway's Hitting and Pitching Training Aids at the highest levels of the game of baseball and softball.
"SwingAway is extremely proud to announce our agreement with Jennie Finch to develop and promote SwingAway's newly formed Softball Division," says SwingAway's President and CEO John Flading. "SwingAway has earned the reputation for developing highly effective hitting and pitching training aids for both baseball and softball. We are humbled that High Level Athletes like Jennie Finch desire to be involved with our company's growth, which is a true testament to the effectiveness and potential of SwingAway's products. SwingAway could not be more honored to have Jennie Finch, a legend in the sport, represent the emerging SwingAway Brand."
Finch is the complete ball player. When she was not pitching she was playing first base, and she was always in the batting line-up. Finch first started training with SwingAway Products while in college at the University of Arizona. Finch continues her passion and enthusiasm for the game by hosting, instructing and teaching young women at her highly acclaimed Jennie Finch Softball Camps
www.jenniefinch.com/camp-overview
around the country, and SwingAway Products will now be featured in her camps.
"SwingAway Products are World Class training aids for players and teams of all ages and all skill levels. I'm excited to be a part of SwingAway's commitment to produce high-quality training equipment specifically designed for softball players to improve their on-field performance and over-all game," says Finch.
Finch will work with SwingAway Softball to assist in the development, design, and the promotion of SwingAway's growing line of softball products. Finch's utter dominance, from the pitcher's mound to the batter's box, serves as the inspiration for SwingAway's Softball Product Line, featuring a comprehensive arsenal of sleek, top quality Softball Pitching and Hitting Aids. Together, Finch and SwingAway will strive to create a product line that will empower girls and women to quickly reach their true potential as softball players.
For more information on SwingAway's Softball Products, and Finch's partnership with SwingAway, visit
www.SwingAway.com
.