Amaryllo Reveals World's First WebRTC Wireless Network Cameras
Amaryllo debuts the first wireless network video camera products with Google's WebRTC technologies at IFA Berlin and at Security Essen 2014.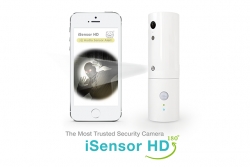 Amsterdam, Netherlands, September 17, 2014 --(
PR.com
)-- Amaryllo International B.V. (Amaryllo), headquartered in Amsterdam, the Netherlands, announces that it debuted world's first wireless home network cameras based on Google's Web Real-Time Communications (WebRTC) technologies at IFA Berlin 2014. Based on Disruptive Analysis' latest report, devices supporting WebRTC at the end of 2016 are expected to increase to 4.7 billion units. Over 4.5 billion PCs, tablets, and smart phones will have WebRTC installed, making WebRTC a de facto video communications standard. Amaryllo is the first company to integrate WebRTC into its home network video cameras, allowing consumers easy and secure access to home network cameras with more new features and exciting functions.
Live real-time video was displayed on smart phones from Amaryllo's iCam HDs located in its factory thousands of miles away. Visitors at Amaryllo's IFA booth were able to witness and to experience the new products. By finger-swiping on smart phones, users can remotely pan and tilt cameras' movement, allowing 360 degrees of viewing. Amaryllo is also the first company to support Google Drive, enabling its products to upload recorded videos to consumers' free 15 GB Google Drive cloud storage.
"We are very excited to be the first smart home security company to integrate Google's WebRTC technologies to our product families. WebRTC offers many rich features and functions, and we are quite happy to realize this advanced technology into reality," said Jacob Hanks, sales manager at Amaryllo.
Amaryllo will demonstrate advanced home security video cameras based on WebRTC technology at Hall GA stand 131 at Security Essen 2014. To reserve a private product demonstration or to receive product details, please contact Amaryllo at sales.ai@amaryllo.eu. For product information, please visit our website at www.amaryllo.eu.
About Amaryllo International B.V.
Amaryllo International B.V. (Amaryllo) is a worldwide leading smart home security product company. Headquartered in Amsterdam, the Netherlands with facilities in Asia. Amaryllo is a licensee of Apple MFi, Skype Developer, Windows Developer, Google Play Developer, AAC+, UPnP, Bluetooth SIG, and etc.
540 Singel, 1017 AZ, Amsterdam, the Netherlands
T: +31 208941387
F: +31 208941333
sales.ai@amaryllo.eu
www.amaryllo.eu
Contact
Amaryllo International B.V.
Jacob Hanks
+31208941387
www.amaryllo.eu

Contact