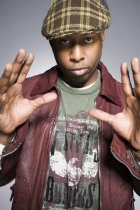 Jersey City, NJ, September 17, 2014 --(
PR.com
)-- There is a war on our shores! And the enemy is not some dark, sinister foreign entity - it's homegrown, right here in our midst. The Black youth violence crisis is alarming, fueled by the enemies of peace and tranquility -- ignorance and apathy. We must declare war, and fight vigorously to rescue our Black youth from extinction. RETV, a popular YouTube channel headed by LaMar Stephens of New Jersey-based Rap Entertainment, Inc., is creating a three-part docu-series entitled "Cities In Crisis," which will examine the problem under a microscope, laying out both the problems and the solutions, featuring celebrities such as rappers T.I., Common, Ice Cube and Talib Kweli, along with educators, actors and community activists, who all drop their own brands of knowledge and wisdom regarding the Black youth violence crisis...because after all, if it "takes a village" to raise a child, it will most certainly "take a village" to save him/her.
In conjunction with the docu-series, RETV is sponsoring a Peace March and Mini-Concert, scheduled for Sunday, October 26 in Jersey City, NJ's Greenville section. Jersey City has been one of the battlegrounds of this war, and peace warriors there are supporting the RETV effort by hosting this event, designed to bring calmness to their city. It is Stephens' strong desire that more communities across the country will join the fight. He will film the Jersey City event for airing on RETV, as a battle plan for others to follow.
Armed with the weapons of caring and compassion, Stephens and his various armies of soldiers will unite to enlist more recruits for the anti-youth-violence battle. The hope is that Black youth will become a Band of Brothers, as opposed to fighting against one another. With unity, they can form a strong barrier to violence, and ultimately save both themselves and the next generation.
Far too many Black youth have become casualties in this dastardly, violent war. Guns are, but should not be, exceedingly present on inner city streets. Real wars require guns - this pseudo-war of violence and its street mentality do not.
Peace is the battle cry, change is the mission, and LaMar Stephens is leading the charge with RETV and the Jersey City Peace March and Mini-Concert on October 26th. In unity there is strength - if many more will join him, we can all move closer toward that peace.
Contact: Double XXposure Media Relations
Theellerbeegroup@aol.com
201-224-6570 or 212-629-9404