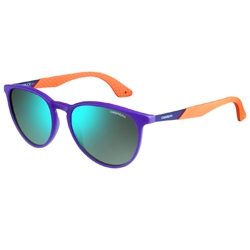 Brooklyn, NY, September 18, 2014 --(
PR.com
)-- Carrera has unveiled its upcoming eyewear collection for the Fall/Winter 2014/2015 season. The eyewear in this collection features ultra-slim profiles and striking color-blocking effects. This serves to introduce new sunglasses and optical frames that emphasize the urban, contemporary personality.
All of the innovations presented in this collection not only reveal the authentic spirit of the eyewear, but also its new and lively look. This all goes to show the use of premium materials in making this new eyewear and reveals the brand's great passion for design and its meticulous attention to detail.
This collection of includes such great models as the Carrera 5019/S, which epitomizes the contemporary design and fine attention to detail that characterizes this collection. It is made of Optyl, which is a Safilo Group registered trademark for an ultra-lightweight, high-tech material. The Carrera 5019/S was designed to not only reflect the hottest fashion trends, but also to win the hearts of women everywhere. These
sunglasses
come adorned with the brand's signature trapezoidal Victory C logo on the inside of the geometric temples. Rubber temple tips are featured so as to deliver maximum comfort and preserve style.
The Carrera 5019/S features multi-layer polycarbonate mirrored lenses that are beautifully and perfectly complemented with new feminine color combos including, but not limited to, white/lilac with red lenses, black-lime with gray lenses, Havana-gold with gray-ivory lenses, brown-aqua green with brown lenses, burgundy-ivory with multicolored lenses, and purple-orange with khaki mirrored lenses.
This collection also features some superb optical frames. The CA5523 are one such frame. This optical frame contains a slim, flat stainless steel profile that expresses a harmonious, ethereal feel. Its colorful plastic temple tips are idiosyncratic with this collection and give the frame some flash and liveliness. The unisex frame features an essential color palette in matte nuances of black, brown, purple, mud, and burgundy.
Wilhelm Anger founded Carrera in Austria in 1956. The company has sold sports eyewear, such as ski and cycling goggles, as well as sunglasses and prescription frames.
Italian eyewear company Safilo Group bought Carrera in 1996 and has continued to sell eyewear under the Carrera label since then, having become the second largest eyewear company behind Luxottica.
For more sunglasses and eyeglasses please visit us at www.divineoptics.com