Cáserez Reveals Its Spring/Summer 2015 Collection, "To Pablo;" a Mix of Art and Science
Made-to-order, one-of-a-kind designs are produced with the latest technology available to the fashion industry.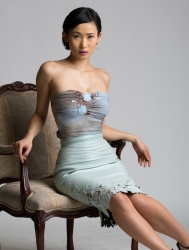 Redwood City, CA, September 29, 2014 --(
PR.com
)-- Cáserez, a new high-end clothing brand that combines original designs with the finest materials and latest production techniques, introduces its Spring/Summer 2015 collection, "To Pablo." Founded by a technology industry guru, Cáserez merges the old and the new worlds; art and science. Traditional beading, embroidery and hand-painting techniques are combined with the latest digital printing, laser cutting and 3D printing technologies.
Each collection is unique, made-to-order and limited to less than 1000 units; aiming to deliver individuality and continue to surprise with each new collection. The whole production process is closely monitored and completed in the US to ensure high standards of quality.
"The "To Pablo" collection is a homage to a great and passionate Chilean poet who loved beauty, Pablo Neruda. "To Pablo" is feminine, sensual, naturally striking, a playful gamma of colors and textures," said Patty Diaz-Baker, Cáserez founder and lead designer. "Cáserez delivers luxury fashion at a great value. In average, our company provides a 30%-50% discount compared to retail prices. The company achieves savings by eliminating retail markups, working directly with artists leveraging new technologies and a made-to-order production model."
"To Pablo" is available at http://www.caserez.com
For more information, please contact patty@caserez.com
About the Company
Cáserez is a new high-end clothing brand and direct sales channel based in Northern California. The company creates unique and feminine designs by combining beading, embroidery, hand-painting and other traditional techniques with the latest digital printing, laser cutting and 3D printing technologies.
The company founder and lead designer is Patty Diaz-Baker. Born in Chile in a family that owned a leather fashion manufacturing company, Mrs. Diaz-Baker grew up immersed in the fashion world and created her first collection at the young age of 13. After college, she joined the family business to lead product design and marketing activities and years later, moved to the US, received a scholarship to complete an MBA at USC. After graduation she led a successful career in eCommerce and Technology developing online channels for large companies like Microsoft, Symantec, Electronic Arts and Hewlett Packard.
Intrigued by the latest digital imaging, laser cutting and 3D printing technologies available to the fashion industry, Mrs. Diaz-Baker founded Cáserez with the goal of leveraging new technologies to bring to life stunning, one-of-a-kind designs that Cáserez the highest quality materials; from fine leather, crystals and delicate Italian silk to the most innovative and unexpected materials such as gleaming copper fabric, elegant cork leather and 3D printed metal accessories.
Mrs. Diaz-Baker currently lives in the Bay Area, California, where she continues to lead large-scale eCommerce projects for large corporations while she develops her new brand and direct business, Cáserez.
Source: Cáserez
Editorial contact:
Patricia Diaz-Baker
Caserez
+1 408.393.9525
Patty@caserez.com
http://www.caserez.com/pages/newsroom
Contact
Caserez
Patricia Diaz-baker
408-393-9525
www.caserez.com

Contact