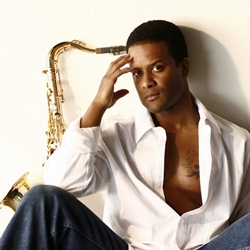 Los Angeles, CA, October 01, 2014 --(
PR.com
)-- Lockhart Events and 7th Note Entertainment, Inc. are pleased to announce that smooth soul saxophonist, singer, and songwriter, Andre Delano (www.andredelano.com), will perform on October 10, 2014 at Duling Hall in Jackson, MS. The show, hosted by WKXI-FMs, Stan Branson, starts at 8:00 p.m. and tickets are available www.eventbrite.com and by calling Lockhart Events at 601.454.6982.
"I am extremely excited to perform in Jackson, the city of my college Alma mater, Jackson State University," states Delano. "The show just happens to be the same weekend as Jackson's homecoming and I plan on putting on a performance that the city and attending alumni will never forget!"
Show details are as follows:
When: Friday, October 10, 2014
Where: Duling Hall
Address: 622 Duling Avenue, Jackson, MS, 39216
Time: Doors open at 7:00 p.m., performance at 8 p.m. After party immediately after show
Price: $25 in advance, $30 at the door and exclusive VIP tickets that include a meet and greet and autographed CD only available at: www.eventbrite.com
The Jackson State Alum began playing the saxophone when he was only eight and by the time he turned 18, Delano was touring the country backing some of the most prolific artists in the industry. Presently, Delano is gearing up to release his fourth album with his latest charting single "Help Yourself" leading the way. Currently, the single is part of the 9 Mile Road compilation CD released by Woodward Avenue Records. The compilation includes two versions of "Help Yourself." One is a vocal version featuring the crooner and the other is a sax-driven instrumental that features Grammy Award Winning Producer/Guitarist Paul Brown.
For more information about Andre Delano's concert please contact Shanon Belt of Lockhart Events at 601.454.6982 or via email at: lelbelt@yahoo.com To view a sneak peek of Andre Delano performing live visit: https://www.youtube.com/watch?v=tMda83fFC5E.
About Andre Delano
Andre Delano (www.andredelano.com) is one of the hottest singer - saxophonists, writers, and producers to hit the music scene. Delano has toured and/or performed with Lionel Richie, Maxwell, Usher, Christina Aguilera, Stevie Wonder, Billy Ray Cyrus, Donnie Osmond, Jeff Lorber, Doc Powell, Bobby Lyle, Chieli Minucci and Peter White just to name a few.
About Lockhart Events
Lockhart Events is an East St. Louis based music and events promotional company. We focus on producing quality events that promote live entertainment in amphitheaters, performing arts centers, clubs and other live venues across the country. We are proud to be bringing the very talented Andre Delano to Jackson to perform.
About 7th Note Entertainment, Inc.
7th Note Entertainment, Inc is a multimedia, marketing and promotions company committed to supporting quality entertainment from a wide array of music genres. Celebrating its 10th Anniversary, 7th Note, distinguishes itself from other entertainment companies in that each person involved – from executive to artist – has a voice, an opportunity to learn and the ability to use their creative skills in a productive environment.