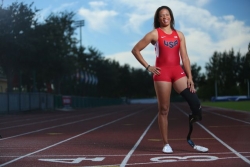 Pennsauken, NJ, October 01, 2014 --(
PR.com
)-- Enjoy an evening of "Vegas-style" entertainment while you assist the April Holmes Foundation, Inc. in their efforts to enhance the life experiences of those with physical and learning disabilities. The 2nd Annual Black Tie & Sneaker Casino Night Charity Event is set for 8PM to 1AM, Friday, October 10, at the Adventure Aquarium 1 Riverside Dr. Camden, NJ 08103. The theme, "Gaming for a Cause," will be carried out with various casino games and celebrity dealers. There will be music, silent auctions, gift auctions, prizes and more. Advance admission is $50 per person and includes: $50 in "April Bucks", (1) coupon for a commemorative photo, and one (1) raffle ticket for attendees to test their luck at the money wheel. Organizers also invite "ghost gamblers" to purchase tickets to support the organization even if they are unable to attend. All proceeds will benefit the April Holmes Foundation, Inc., which provides medical assistance and scholarships to those with physical and learning disabilities.
About April Holmes Foundation, Inc.
The April Holmes Foundation, Inc began is a 501(c) 3, non-profit, tax exempt organization (www.aprilholmes.com/Foundation) was developed by April Holmes after realizing the need for people with disabilities to have additional resources to assist in their journey of life. Many adults don't have adequate health care to cover medical costs and equipment needed for them to live their disabled lives successfully. Many disabled youth desire to have a life of sports, but struggle with finding adaptive equipment. Additionally, we encourage the education, employment, and empowerment over a sedentary lifestyle for all those living with disabilities whereby they don't rely on a lifetime of dependence on government assistance. Therefore, we provide guidance and assistance in the following areas: securing housing, supplementing their educational funding, securing employment, enhancing athletic experiences, accessing mental and physical health care, providing assistance for developmental camps, and developing and maintaining a social support system. The mission of the April Holmes Foundation, Inc. is to enhance the life experiences of those with disabilities and promote self-sufficiency.
About April Holmes
April Holmes is a 3-time Paralympic Gold medalist from Somerdale, NJ. In 2001, she lost her left leg below the knee in a train accident. After learning of the loss, April decided upon three dreams: to wear the USA uniform at the next Paralympic Games, to be the "Fastest Female Amputee" in the world and to win Gold medals. To date she has won numerous medals and has broken the world record fourteen (14) times and the American Record eighteen (18) times. She is currently training for her fourth Paralympic Games, which will be in Rio the Summer of 2016. April recently completed her MBA in Marketing, and is a well sought after motivational speaker. Early this summer she co-authored her first book with Brian Tracy which hit the Amazon Best-sellers list, and is super excited for the winter release of her own book entitled, "Stop Limping Thru Life, Stop Running." April is the first woman sponsored by the Jordan Brand (a division of Nike) and was recently named to the "Top 10 Most Influential Women in Paralympic Sport" distinction.
For additional information please contact:
April Holmes Foundation, Inc.
856-663-5929
Website: www.aprilholmes.com
Bessie Bennett, President
Bessie@aprilholmes.com