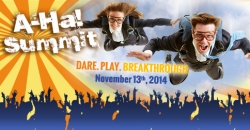 Gilford, NH, October 03, 2014 --(
PR.com
)-- To help entrepreneurs, business owners, marketing professionals, and leaders in mission-driven organizations achieve breakthrough results, Epiphanies, Inc. will host the 6th annual "A-Ha!" Summit on Thursday, November 13th, 2014 at Southern New Hampshire University in Manchester, NH, and online via Digital Pass. Produced with Platinum Partners SNHU, Constant Contact, and Flock Marketing, the theme of this award-winning social media, marketing, and success conference is "Dare. Play. Breakthrough."
Designed and delivered by Lani and Allen Voivod, Allies in Possibility at Epiphanies Inc. and co-founders of the "A-Ha!" Summit, the full-day digital marketing conference will showcase top experts in email and mobile marketing, Instagram for business, content creation, integrated marketing campaigns, results-driven success coaching, community building, online visibility, and energetic technology.
Roderick Russell, professional sword swallower, mentalist, hypnotist, and author and host of Remarkably Human: The Art and Science of Being Remarkable, will keynote the event. The high-energy day also includes an "Online Domination Panel," featuring experts on branding, responsive design, Internet performance, inbound marketing, SEO, as well as some future-casting and trend-watching in business for 2015 and beyond.
Gold Sponsors for the event include Dyn, NH Business Review, the New Hampshire Today Show With Jack Heath, and the NH Division of Economic Development.
Continental breakfast, lunch, refreshments, a post-event Networking and Happy Hour, and live music are included for in-person attendees. Digital Pass holders can attend via livestream, and get video-on-demand access through September, 2015. To see the full lineup and register, go to http://www.AhaSummit.com.
About Epiphanies, Inc.
Hailed as "visionary" and "two of the most creative thinkers in the industry," Lani and Allen Voivod are the owners of Epiphanies, Inc., founders of the "A-Ha!" Summit, and leaders of the "A-Ha!" Tribe, an international social media, marketing, and success mastermind community. As sought-after speakers, trainers, and consultants, the married duo engages leaders, inspires entrepreneurs, and helps redefine what's possible for passionate professionals in the Digital Age. Connect with them at http://www.EpiphaniesInc.com, http://www.AhaSummit.com, and http://AhaTribe.com.