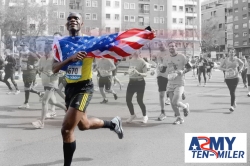 Washington, DC, October 08, 2014 --(
PR.com
)-- A decorated, veteran, military physician, Dr. Clayton G. Lawrence is no stranger to the service and sacrifice that the men and women of the United States Armed Forces make daily. He attributes his time in the U.S. Army with his unyielding appreciation and admiration for those still serving today, and has shown and continues to show his support of military members and their families by participating in a number of events that directly raise funds and awareness for causes affecting these men and women on a daily basis.
As an avid endurance athlete, and through the help of his medical staffing company, Lawrence Executive Alliance of Professionals (LEAP), LLC, and its partner non-profit foundation, LEAP Foundation DC, Dr. Lawrence has run more than 6000 miles, via marathons, half-marathons, and 10K races, in support of charitable causes and events. With his companies being veteran-owned/disabled organizations, any opportunity that Lawrence has to support events associated with soldiers, and particularly those benefiting soldiers wounded in combat, he makes a priority to be involved with directly. On Sunday, October 12th, Dr. Lawrence will have the opportunity to run the Army 10-Miler to support Hope for the Warriors, an organization established to bring various forms of assistance directly to physically wounded or psychologically affected soldiers and their families.
Established after 9/11, Hope for the Warriors was initially formed in 2006 by wives of military service members who recognized the severe, and often devastating, effects that soldiers were facing upon returning from combat. Since its inception, Hope for the Warriors has been led by dedicated military family members and its services have benefited thousands of men and women across the globe.
"Hope for the Warriors is a phenomenal organization that has made a powerful and undeniable impact in the lives of so many military families," Dr. Lawrence stated when asked about the upcoming event. "On behalf of LEAP Foundation DC, as well as myself, we are honored to support the very people that protect and make this nation the safest and greatest nation in the world."
The Army 10-Miler will be held in Washington, D.C., and will begin at the Pentagon at 8:00 a.m. For more information on Hope for the Warriors and LEAP Foundation DC, please visit www.hopeforthewarriors.org and www.leapfoundationdc.org.