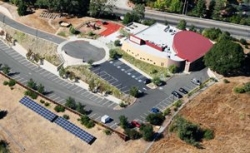 Novato, CA, October 14, 2014 --(
PR.com
)-- While the Congregation has been wanting to do solar for a few years for all the right reasons, but it was not until a new financing option very favorable for non-profits was introduced by SolarCraft that they saw a sound financial return. Essentially, the financing payments for the solar power are less than paying PG&E each month. As Robert Gould, Director of Commercial Projects, states, "We are honored to be helping houses of worship, like Shomrei Torah, to dramatically reduce their climate footprint, which is very congruent with their values, as well as saving them money, which allows them to provide the valuable services to the community. We are seeing a number of houses of worship and spiritual communities going solar."
The solar photovoltaic system is ground mounted on a hillside below the building and consists of 104 SunPower high-efficiency solar panels spanning nearly 2,180 square feet. The system's solar panels convert sunlight directly into electricity and is expected to generate approximately 56,100 kilowatt hours of energy annually, reducing their PG&E bills by 90% and providing clean energy to the Synagogue. Furthermore, Sonoma Clean Power's favorable rate for solar customers, which give credits for energy exported to the grid, will generate additional savings.
The system's solar electric panels allow the Congregation to generate enough electricity each day to power 17 average homes. It will spare the air nearly 25 tons of harmful greenhouse gases annually. Over 30 years, the air pollution saved will be equivalent to eliminating over 1.4 million miles of driving.
About Congregation Shomrei Torah
Shomrei Torah was founded in 1974 by a group of eleven Sonoma County families. The name they chose for their new congregation translates as "Keepers of Torah" in honor of our Holocaust Torah, which was rescued from Strakonitz, Czechoslovakia, and is on permanent loan from a foundation in Westminster, England. Today, the 450 member households of Shomrei Torah comprise the largest Jewish congregation in Sonoma County, and the fastest-growing congregation in the North Bay.
SolarCraft is one of the most trusted and experienced solar energy contractors in California. Since 1984, this certified Green Business has been providing high quality solar electrical, solar pool heating and solar water heating services to homeowners and businesses, employing licensed and certified solar installers. With more than 5,000 satisfied customers and over 2.5 million square feet of solar collectors installed, SolarCraft is committed to Quality Design, Quality Materials and Customer Service.
www.solarcraft.com