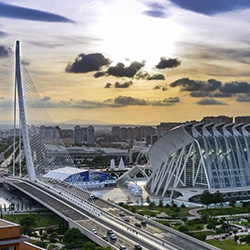 London, United Kingdom, October 15, 2014 --(
PR.com
)-- Eighteen of Europe's most innovative cleantech start-ups have been shortlisted by Climate-KIC to compete in the European finals of the Venture Competition 2014, on October 30th and 31st in Valencia, Spain. A jury of experienced entrepreneurs, financiers and business people will be looking for the next generation of disruptive scalable clean technologies and services with the potential to make a substantial impact. The three winners will receive a total of €65,000 in funding to further develop their ventures.
The finalists, who represent 10 countries across Europe, include: PlugSurfing, an app to facilitate the mass adoption of electric vehicles; Reduse, a new technology that removes printer ink from paper so it can be reused multiple times; GrowUp Urban Farms, an aquaculture and hydroponics system that supports sustainable farms in urban environments; and ReVibe, a new technology that transforms vibrations into electricity.
Hero Prins, Director of Entrepreneurship at Climate-KIC said, "It is vital that we develop new technologies and services to mitigate the impact of climate change. Our competition is designed to identify the innovative companies capable of making a national and global impact to create a more sustainable environment.
"The Venture Competition is designed to spur innovation by giving the cleantech start-ups of the future the funding and support they need to succeed commercially. This is the fourth year of our competition and our previous winners have gone on to achieve considerable commercial success – tadoº, a winner in 2012, recently raised €10 million in VC funding and is now rapidly extending the roll out of its intelligent home heating service around the world.
"That is just one example, but our success in promoting Europe's brightest cleantech ventures is demonstrated by the recent announcement that our unique Accelerator has helped 45 start-ups collectively raise €59 million in external funding. Our Accelerator is now supporting over 120 start-ups every year and the Venture Competition will be showcasing the brightest prospects currently in our programme."
The competition forms part of Climate-KIC's annual Innovation Festival, which takes place from 29th-31st October in Valencia and brings together Climate-KIC partners, students and entrepreneurs, as well as European policy makers and business market leaders in order to develop and commercialise innovative climate change products and services. The finalists have already been awarded a total of €360,000 in Climate-KIC regional competitions across Europe to accelerate the development of their ventures.
The winners of the 2013 Venture Competition were Switzerland-based OsmoBlue, developers of a patented technology to convert low-temperature waste heat into energy. Last year's runners up were Dutch start-up Pectcof, that promises to unlock the potential of coffee pulp as a source of bio-based materials, and Aqdot, a UK-based company that allows for a hyper-efficient way of manufacturing microcapsules for the household, personal care and agrochemical industries, leading to lower energy consumption and less waste.
Venture Competition 2014 press materials:
http://releasd.com/915e
Venture Competition 2014 website:
http://www.climate-kic.org/best-climate-venture-2014
About Climate-KIC
Climate-KIC is the EU's main climate innovation initiative. It is Europe's largest public-private innovation partnership focused on mitigating and adapting to climate change. Climate-KIC consists of companies, academic institutions and the public sector.
The organisation has its headquarters in London, UK, and leverages its centres across Europe to support start-up companies, to bring together partners on innovation projects and to educate students to bring about a connected, creative transformation of knowledge and ideas into products and services that help mitigate and adapt to climate change.
Climate-KIC is one of the Knowledge and Innovation Communities (KICs) created in 2010 by the European Institute of Innovation and Technology (EIT), the EU body tasked with creating sustainable European growth while dealing with the global challenges of our time.
Climate-KIC contact
Angela Howarth
Head of Communications, Climate-KIC
angela.howarth@climate-kic.org +44 (0) 20 7492 1972
Media contact
Mona Ghobadi/Katie Ward
EML Wildfire Technology PR
climatekic@emlwildfire.com +44 208 408 8000