Safety in Mission, Texas? It's Safer Than Most Large Metropolitan Cities
Safety in Mission, Texas is a concern that many visitors have in mind. Well, safer than Honolulu, The Greater Mission Chamber of Commerce is proud to announce Mission, Texas as the 13th safest city in America!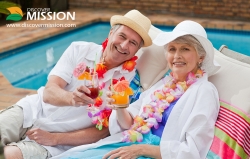 Mission, TX, October 30, 2014 --(
PR.com
)-- There are thousands of cities in America that have earned metropolis status. There are a variety of organizations, rating systems and other research groups that exist to tell citizens and visitors which ones are "safe." Since 1928, Farmers Insurance Group of Companies has been ranking around 400 American cities based on the safety and level of security that those community's residents enjoy.
All kinds of data goes into assessing a city, and determining how it ranks when compared to similar metropolitan areas. The number of crimes that occur per thousand people, and the kind of crimes that take place, are two of the main indicators in studies of this sort. Usually it's property crimes (theft, vandalism etc) and violent crime (murder, rape and the like) that are primarily examined.
In the large metropolitan areas category, Pittsburgh, Pa. recently took the number one spot. Although Pittsburgh may be one of the safest cities, it's a shame about their winters! There's a reason their hockey team is known as the Pittsburgh Penguins!
When the Insurance Group conducted a similar survey of smaller cities, Ithaca, New York grabbed top spot. It is known that everybody loves New York, and Ithaca is a lovely town to visit... in the summer.
For the purpose of the "Safe Cities" survey, Mission, McAllen and Edinburg were put together, which qualified as a "large metropolitan area," with a population of more than 500,000 people.
Few people know it, and the media certainly didn't pay much attention, but the Mission metro area came in at number 13 on that Farmer's Insurance Group of America's safest cities! Mission outranked Honolulu, and there's a guarantee it's a lot more affordable to stay in and get to! Only 12 cities beat Mission in terms of overall safety, including Denver, Rochester, and El Paso.
Many other winter destinations may come to mind when planning to escape the wicked northern winters. But there are few places that will provide the warmth, hospitality, and secure environment that Winter Texans enjoy in Mission. There is no need to spend hours in airports and on planes to visit. Pack up the RV, and take a leisurely drive down to Mission. Make this sunny town the end of the "escape winter" road trip.
At night, join the locals, and meet the thousands of other Winter Texans that are out strolling city streets. Take advantage of the warm evenings to visit restaurants, cafes, and check out the nightlife.
Many Winter Texan friends are very fond of their RVs. Mission has plenty of resorts to set up house. This includes access to all the modern conveniences you might need, and it's affordable enough that Winter Texans can stay all season long. Mission's RV parks are safe, quiet and clean.
Another option that's finding favor with Mission visitors are B&Bs. All the comforts of home at hand, but freedom to come and go as one pleases. Delicious home cooked breakfasts always taste better when there's no clean up involved.
What better way to meet up with the locals, and get the inside scoop on what's happening here and now. Indian Ridge Bed & Breakfast is a top-rated spot. Just call hostess Suzanne to see if the Safari Suite is available! This gorgeous getaway is located near the Bentsen State Park, and the World Birding Center, two of Mission's best loved tourist attractions.
Contact
The Greater Mission Chamber of Commerce
Crystal De Los Reyes
956-585-2727
missionchamber.com

Contact