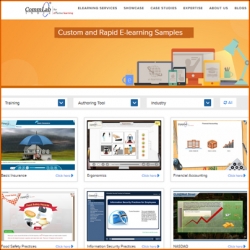 Hyderabad, India, October 23, 2014 --(
PR.com
)-- CommLab India has updated its Showcase page with new samples of its eLearning courses. The samples have been updated with new age design showing courses that have gamification, videos, assessments, scenarios and ice breakers. Visitors to the page can get a sneak peek into the rich interactivities that are possible with the latest authoring tools.
The web page also has been made user-friendly so that viewers can scan the samples based on the training types, authoring tools and industry. Visitors to the website can get a good idea about the Instructional and Visual strategies that can be developed using a particular authoring tool. Those who would like to view courses based on their training needs such as product training, process training and so on will now be able to choose their preferences using a drop down menu.
Some of the topics that have been covered in the sample courses are insurance, ergonomics, financial accounting, information security practices, supply chain management. Each of the courses is designed to give the viewer an idea about the features of an eLearning course, the navigational options, graphic user interface and interactivities.
Launching the page, Dr. Ayesha Habeeb Omer, Co-Founder and COO of CommLab India said, "Sample courses give an idea to those who are thinking of starting eLearning in their organizations. They can get a first-hand idea on how eLearning can be applicable to their unique training needs."
Mr. RK Prasad, Co-Founder and CEO adds that "CommLab India regularly updates these samples to reflect changing training requirements of organizations as well as the new authoring tools that are constantly updated in the eLearning market space. These samples will also inspire training managers or stakeholders, who have not yet started eLearning in their organization, to give it a serious thought."
To check out more about the sample courses you can visit the URL http://www.commlabindia.com/custom-elearning/elearning-demos.php
About CommLab India
CommLab India LLP is a leading eLearning services company with expertise in developing interactive online learning courses. It has worked with both mid-size organizations and independent divisions of large organizations to train their workforce since 2000. It has rapidly grown since then and has a team of 120+ eLearning professionals catering to the needs of its customers in US, Canada, UK, Australia, Europe and India. It's services include rapid and custom eLearning development, conversion of legacy courses into mobile compatible HTML5 format, translation of courses and Plug-n-Play LMS installations.
Visit: http://www.commlabindia.com for more information.