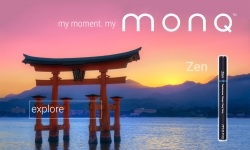 Palm Beach Gardens, FL, October 23, 2014 --(
PR.com
)-- MONQ aromavapes are available immediately at
www.MONQ.com
as well as through select retailers. Merging the ancient art of aromatherapy with modern technology of vaping, MONQ aromavapes contain purely organic plant extracts providing the user with an incredibly flavorful and qualitatively different experience from anything you've ever inhaled before.
True to their acronym: "My Own Natural Qualia," MONQ aromavapes provide the ability to change the quality of "your experience," with just a breath or two, and hence the slogan: "My Moment. My MONQ." MONQ brings the ancient art of aromatherapy in a high-tech portable package to the world. MONQ is not a cigarette. It contains no nicotine nor tobacco extracts. Instead, each MONQ aromavape is made with carefully blended natural essential oils and pure vegetable glycerin in unique flavor combinations specially selected to enhance "your moment."
With flavors names of Happy, Healthy, Sexy, Skinny, Sleepy, Vibrant, Wise and Zen, MONQ aromavapes often have an immediate effect on the sense of well being. It is amazing that with Happy and Zen feelings of calm and peacefulness may immediately occur, and with Skinny and Vibrant energy level seems to improve. The blended flavors will amaze as they deliver the qualia of their namesakes.
MONQ aromavapes appear to be very stylish e-Cigarettes and they make people feel comfortable in any environment, including a yoga studio or a nightclub. However, the e-liquids in these "e-cigarettes" contain only natural and healthy organic herbs, spices, citrus and floral plant essences in a base of 100% pure vegetable glycerin. For people who vape, comparing MONQ aromavapes to the usual e-liquid is critical. It will be found that the quality, flavor, and most importantly experience are amazing.
"Inhaling on a MONQ aromavape is not an ordinary experience," says Sylvia Brach, architectural stone expert. "It provides for an incredible sensory experience of flavor, and moreover, an almost immediate change for the better in your sense of well-being. They're incredible!"
Founded by Eric Fishman, MD, a western medicine trained Orthopedic Surgeon, MONQ aims to improve the well-being of its users by entirely holistic methods, as opposed to relying on traditional western medical methods such as pills and surgery.
For more information visit MONQ.com, email info@monq.com, or call 888.898.1450.
Note: These statements have not been evaluated by the Food and Drug Administration. This product is not intended to diagnose, treat, cure, or prevent any disease.