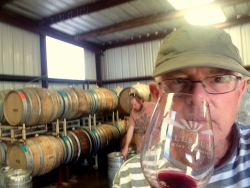 Willcox, AZ, October 29, 2014 --(
PR.com
)-- Indie filmmaker and winegrower Sam Pillsbury has evolved into Indie winemaking. In less than 30 days, he and winemaker James Callahan designed and built a winery on the Pillsbury Wine Co. 100-acre vineyard property in the high desert of Cochise County Arizona, 13 miles south of Willcox, and just a hop, skip and a jump from the legendary Western town of Tombstone.
Minutes from loan approval on July 7, 2014, ground was broken on Pillsbury's high-altitude property in the Sulphur Springs Valley. By August 7, they were pressing their own freshly picked Chardonnay in a new fully functional winery.
"We had just gotten the power on that morning," Pillsbury said. "It was touch and go; I had to have a Plan B and a Plan C."
The new winery is a 100 percent recycled operation, created in true Mad Max fashion.
"We were on the Internet and the phone everyday sourcing what we needed, just as the market for used high-end wine-processing equipment was heating up," Pillsbury said. "Harvest was looming everywhere."
Pillsbury and Callahan cobbled the winery together using a locally sourced dismantled building, abandoned refrigerated truck trailers, local construction, and electrical crews. They frantically tracked down and pulled used equipment from an old winery and abandoned mines in the surrounding mountains, as well as acquired some used equipment from California.
A month following the completion of harvest, the Pillsbury Winery has now processed more than 50 tons of local fruit.
"That's more than 3,000 cases of wine. And it's never looked or tasted better. James and I are very excited," Pillsbury said.
Previously, Pillsbury wines had been made under his supervision in two Arizona custom crush facilities.
"We have always made wines exclusively from the fruit from this valley," Pillsbury said. "We self-grow and self-distribute, and it just feels more authentic to make the wine ourselves here on our land. Pillsbury Wine Company has come full circle at last."
Pillsbury has received accolades including Best Local Winemaker and Rising Stars of The Southwest (The Wine Spectator), and awarded high praise from two of the world's top wine writers, Jancis Robinson and Robert Hughes. In Arizona competitions this year, two Pillsbury wines have been named Best Local White (Pillsbury WildChild White 2012) and Best Local Red (Pillsbury Diva 2012), and four Pillsbury wines received scores of 90 from Anthony Dias Blue in the prestigious Tasting Panel Magazine.
"With what we now have here I think the sky's the limit," Pillsbury concluded.