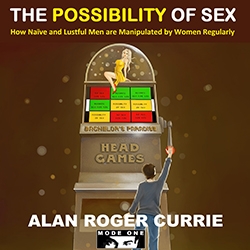 Hollywood, CA, October 31, 2014 --(
PR.com
)-- One book author used to refer to the women he met who possessed a high degree of manipulative tendencies as "Kimberly Joyce" types and "Matty Walker" types. Now, this same author refers to women of this nature as "Amazing Amy" types. The three references are all from popular movies that featured female characters who were known for their manipulative ways toward the men who were their chosen targets.
Kimberly Joyce (Actress Evan Rachel Wood) is a highly manipulative teenage high school student who accuses her high school drama teacher (Actor Ron Livingston) of making sexual advances toward her in the 2005 Black Comedy "Pretty Persuasion."
Matty Walker (Actress Kathleen Turner) is a woman who persuades her divorce attorney (Actor William Hurt) to murder her husband so that she can live off of his insurance policy benefits in the 1981 suspense thriller "Body Heat."
Amy Dunne a.k.a. "Amazing Amy" (Actress Rosamund Pike) is a frustrated wife who fakes her own abduction in order to potentially frame her adulterous husband (Actor Ben Affleck) for murder in the 2014 critically acclaimed romantic drama, "Gone Girl."
Are these scenarios only found in fiction material? "Not at all," says book author and professional dating coach Alan Roger Currie. "Most women are manipulative with men to one degree or another. The vast majority of women know that most men are suckers for a pretty face and are generally desperate for romantic and sexual companionship, so many of them take advantage of the affect that their looks and sex appeal have on men in order to fulfill their own self-serving objectives," added Currie, whose first audiobook, "Mode One: Let the Women Know What You're REALLY Thinking" was one of the best-selling audiobooks in the category of 'Self Development / Communications" on Audible.com in the month of August.
The Amazon.com Kindle eBook version of "The Possibility of Sex: How Naïve and Lustful Men are Manipulated by Women Regularly" rose to as high as the #7 best-selling book in the category of 'Sex' and 'Dating' in November 2012. In his latest audiobook version of this popular eBook, Currie discusses in detail the women he refers to as "Timewasters."
Currie describes a 'Timewaster' as a woman who has no interest in sharing a man's company in any sort of romantic or sexual manner, but she is extremely reluctant to come right out and express her lack of interest to a man in the early stages of her interactions with the man.
"The thing with women, and particularly manipulative women, is that they feel that they can motivate a man to offer them financial and non-financial favors simply by giving a man the misleading impression that if he performs various favors for these women, he will gain at least a small percentage chance of having sex with these women in the near future ... but the reality is, these women are never, ever going to agree to have sex with those naive, easily manipulated men. I don't care how many free dinners and free movies those men offer these women, they are never going to end up dating those women or having sex with those women," said Currie, who is also the host of a popular Dating Advice-oriented talk radio podcast program on BlogTalkRadio entitled "Upfront & Straightforward with Alan Roger Currie"
Part One of the audiobook highlights the four specific types of 'Timewasters' who tend to take advantage of naive and sexually desperate men:
1) Timewasters who use men for flattery and regular 'boosts' to their self-esteem when they want their beauty and sex appeal validated.
2) Timewasters who use men for entertaining conversations and purely platonic social companionship when they are bored and lonely.
3) Timewasters who use men for various financial and non-financial related 'favors' when they are experiencing financial problems or other 'everyday life' type problems.
4) Timewasters who recruit men to become one of their "male girlfriends" which is a combination of a 'Gossip Buddy' and an 'Empathetic Listening Ear' for women when they need to vent about the men who they recently dated or had sex with who dumped them or cheated on them.
Part Two of the audiobook describes the five types of women that Currie says that no man should enter into a long-term relationship with:
1) "Gold Diggers" (i.e., women who will date a man, or even marry man, just so she can take advantage of his wealth and financial generosity)
2) "Man Thieves" (i.e., women who look to 'steal' a man away from his wife or long-term girlfriend, just to see if she can get away with it)
3) "Drama Queens" (i.e., women who are extremely argumentative, spoiled, and controlling or women who are mentally and emotionally unstable)
4) "Misandrists" (i.e., women who do not respect men or even hate men, but will engage in sexual relations with a man enough times to get pregnant and have children by them)
5) "Liars and Cheaters" (i.e., women who have no genuine intentions of being indefinitely monogamous and faithful to their husbands or long-term boyfriends)
Currie's new audiobook is scheduled to be available on Audible.com on Monday, November 17, 2014. Men and women who have never used Audible.com before will actually be eligible to download "The Possibility of Sex" for free when they sign up for a no-obligation 30-day Trial Membership with Audible.com.
To find out more about Book Author Alan Roger Currie, visit http://www.modeone.net/media/alanrogercurrie/
To find out how to download a free copy of the audiobook version of "The Possibility of Sex," visit http://modeone.net/audiobook/AudiobookOverview2.pdf
All of Alan Roger Currie's books can be found on Amazon.com: www.amazon.com/Alan-Roger-Currie/e/B002BLQ9Q0/