First Year Anniversary of Nelio A/B Testing for WordPress with an Amazing 52% Offer (Two Weeks Only)
It has been a whole year since Nelio Software got its first paid subscription to its Nelio A/B Testing Service. Lots of improvements have been made to the service and to celebrate all the achievements, for the next two weeks, they offer a special promotion with a 52% discount.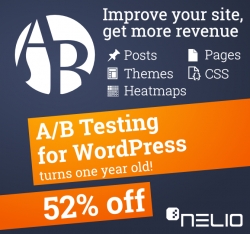 Barcelona, Spain, November 04, 2014 --(
PR.com
)-- They started working very hard to develop the best A/B testing service you could get for WordPress. By mid-September 2013 the first beta was ready. In November, after they integrated all the feedback they got in the service, the first official version of the product was released and soon after they got their first paid subscriber (who is still with them).
Since then, lots of new features have been developed. Now
Nelio A/B Testing
is a solution for publishers, marketers, or anyone with a WordPress site who cares about optimizing the conversion rate of their site. Depending on the different needs, three different subscription plans are offered: Basic, Professional, and Enterprise. All plans include:
- unlimited experiments and alternatives. There is no restriction on the number of experiments and the number of alternatives in each one you can start with Nelio,
- A/B Tests of posts, pages, headlines, content, and themes to analyse what your visitors prefer,
- tracking of different goals such as visiting a page, clicking on a link to an external resource, or submitting a form,
- heatmaps and clickmaps,
- establishing the winner alternative as the default option with just one click,
- simple and powerful visual reporting of all your tests,
- compatibility with popular WordPress plugins and hosting providers,
- 14-day free trial without risk, and
- an amazing support.
The Basic Plan is for individuals and personal sites with only one site and up to 5,000 Tested Page Views (maximum number of visits to pages involved in an experiments in a month).
The Professional Plan has been designed for small business owners with up to 5 sites and 35,000 Tested Page Views. This plan includes more advanced features such as support for multisite WordPress installations and advanced configuration options (e.g. switching to a greedy algorithm, modifying the confidence level required for the tests, or limiting the participation rate to control your quota).
Finally, the Enterprise Plan is for teams focused on optimization and large businesses with plenty of sites and pageviews to test. It also includes e-mail notifications, experiment scheduling, the option to automatically stop experiments, and advanced developer support to even study tailor configurations when necessary.
So far, over 400 users have used their service resulting in more than three million tested page views and over one million heatmaps collected.
Therefore, to celebrate what has been achieved during this last year, 52 weeks, Nelio has launched a special promotion: Every new yearly subscription during the first two weeks of November will benefit from an amazing 52% discount. Get yours now!
And that's not all! Soon Nelio will be releasing a new version of their plugin, which will feature Widget Testing, Headline Experiments, and more. Remember with Nelio A/B Testing you can easily define, manage, and keep track of all kinds of A/B testing experiments, combined with powerful and beautiful Heatmaps. There's no need to learn an external tool. Improve WordPress from within WordPress!
Contact
Nelio Software
Ruth Raventos
(+34) 93 551 14 72
http://wp-abtesting.com

Contact