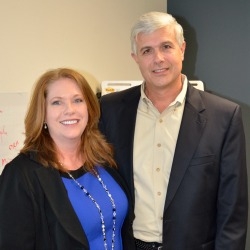 Raleigh, NC, November 10, 2014 --(
PR.com
)-- Raleigh, NC business owners and executive leadership came together for an interactive executive forum hosted by Sandler Training – Sales Matters, an authorized Sandler Training Center. Dave Mattson, CEO & president of Sandler Training and best-selling author, spoke on "Building a World Class Sales Team" by implementing proven techniques that will increase sales pipelines, shorten sales cycles and drive revenue.
"I am very pleased that Dave participated in the forum sharing his expertise on becoming a more effective leader while developing and motivating a top performing sales organization," comments Susan Sykes, president, Sandler Training – Sales Matters. "The sales team is the primary revenue generating group in a company. It's critical that the firm's sales and management methodologies utilize the same systems and techniques to maximum results."
"I welcome the opportunity to work with Sandler Training Centers and area professionals to help them develop, expand and refine their management skills and understand the importance of implementing a proven sales system," states Dave Mattson. "It was a great day, working with clients both old and new, listening to how they implement Sandler methodology. Everyone left with some good take-aways."
Mr. Mattson's presentation covered topics such as: Developing a strategy for enterprise selling; establishing a profile for identifying and hiring new salespeople; properly supervising and motivating your sales team; and managing your sales team's behaviors rather than their production. Attendees were given a signed copy of the Wall Street Journal bestseller, "The Sandler Rules: 49 Timeless Selling Principles and How to Apply Them," based on principles developed by David H. Sandler and adapted by Dave Mattson.
About David H. Mattson, III - CEO and President, Sandler Training
Dave Mattson is a best-selling author, sales and management thought leader, keynote speaker and leader for sales training seminars around the world. As CEO and President of Sandler Training, Mr. Mattson oversees the corporate direction and strategy for the company's global operations including sales, marketing, consulting, alliances and support. His key areas of focus are sales leadership, strategy and client satisfaction. Sandler.com
About Susan Sykes - President, Sandler Training – Sales Matters, Raleigh, NC
Sandler Training - Sales Matters is an authorized Sandler Training® center serving Raleigh, NC and surrounding areas. President and Sandler® Trainer, Susan Sykes is a nationally recognized top sales performer for her ability to close multi-million dollar sales by companies such as Intergraph Computer Systems, Bentley Systems and ModernTech Corporation. She shares her first-hand experience in managing and hiring sales teams; developing sales personnel; growing revenue and market share; business acquisitions; and contract negotiation skills to help sales professionals and business leaders to reach their goals through practical, proven, and experience-based training and consulting programs.
www.SalesMatters.Sandler.com