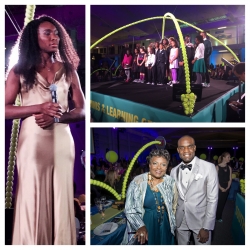 Washington, DC, November 10, 2014 --(
PR.com
)-- As a supporter of the Recreation Wish List Committee (RWLC) for the last several years, LEAP Foundation DC has had the opportunity to partner with the organization to participate in events that have made a significant impact in the Washington D.C. community. The RWLC's youth center, the Southeast Tennis and Learning Center (SETLC), has been the cornerstone of the RWLC, inspiring youth to make education a priority by motivating them through the power of extracurricular activities. This past Friday, November 7th, the SETLC showcased its brand new facility as it reopened its doors for its Grand Reopening and Renovation Celebration, featuring honored guest Venus and Serena Williams.
Founded in 1995, by then First Lady of the District of Columbia, Cora Masters Barry, the RWLC has made a difference in the lives of more than 10,000 area youth. Friday's event, entitled "Tennis Shoes, Ties, and After Five," commemorated how far the organization has come over the last two decades, the support it continues to build, and the possibilities that lie ahead as it continues to grow. In addition to Venus and Serena Williams being in attendance, Mayor Vincent Gray, shared in the evening's festivities, and was honored with the RWLC's Visionary Award.
LEAP Foundation DC Chairman, Dr. Clayton G. Lawrence, is thrilled to have the Foundation sponsor a table to support such a momentous occasion for the RWLC. "The work that the Recreation Wish List Committee has done throughout the greater D.C. area for the last 19 years is inspirational to both me and my organization. We are humbled to have the opportunity to be involved with the work that the RWLC and SETLC do, and we are beyond excited to see the support of local leaders and celebrities further validate this organization's mission," Lawrence stated.
To learn more about or to support the Recreation Wish List Committee, the Southeast Tennis and Learning Center, and LEAP Foundation DC, please visit www.rwlcsetennis.org and www.leapfoundationdc.org .