New Family Tree Board Game Promises to Help Strengthen Family Knowledge and Relationships Over the Holidays
A recently launched online game design course on the learning portal Udemy.com offers anyone the opportunity to create their own genealogy family tree board game to generate friendly competition and open communication among family members during the holidays.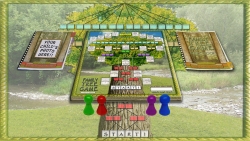 San Francisco, CA, November 18, 2014 --(
PR.com
)-- A new online tutorial course launched on the learning portal Udemy.com provides any family the opportunity to create a personal family tree board game based on their own terms and schedule. With the year's two major family bonding holidays fast approaching, namely Thanksgiving and Christmas, the Develop YOUR Genealogy Family Tree Board Game course is meant to help family members achieve a better understanding of one another during a period of growing family separation.
Created by You Tube creative artist The Homemade Game Guru, the Develop YOUR Genealogy Family Tree Board Game online course was established to give families a fun, interactive, non-mass produced and inclusive outlet to share personal truths, knowledge, assumptions and ancestry with loved ones.
Based on worldwide news reports about the dwindling state of family interaction, a game of this nature could prove to be a beneficial antidote to an emergent level of family bonding malaise growing in many households. From North America to Europe, numerous reports and polls have spotlighted the increasing decay in family togetherness due to technology, work, stress and personal distractions.
According to a 2013 Harris poll of 2,300 adults, American families eat dinner together less than five times a week. Many families just don't have the time or desire for sit down meals with their kin.
An October 2010 article in the Daily Mail revealed 1 in 10 families in the U.K. never eat dinner together. This translates into millions of families not spending quality time together for bonding and conversations.
A study conducted by Statistics Canada between the years of 1986 and 2005 showed a steady decline in the average time families spent together, per day. The presented data showed that regardless of gender, education level or type of work, parents progressively spent 44-minutes less of their personal time with their children and spouses in 2005 than they did in 1986.
Factors like these led to the creation of a course kit which results in a simple zero-tech game for family bonding. The course's creator stresses that his board game course kit can be completed at any time, at a low cost, and at a pace that works for the participants. "Time and money is at a premium for busy families and this course allows those who want to build closer ties and understanding with loved ones to create a profound game whenever they want – however they want," stated The Homemade Game Guru.
Making the course's objective a finished board game, instead of an app, allows a family to tune out technological distractions and tune into one another and the revealed facts they will discover about the people they 'think' they know. Consider it a combined time capsule, scrapbook, genealogy chart and game for relationship building the entire family can build on as they see fit.
The Develop YOUR Genealogy Family Tree Board Game course is available exclusively on Udemy.com for $39 and once registered, access is unlimited. Anyone interested in trying the course can use the coupon code DYCGFTG_C20% for a 20% discount. https://www.udemy.com/develop-your-customized-genealogy-family-tree-board-game/
Contact
Homemade Game Guru
Lue Nuwame
1-647-407-2614
https://www.udemy.com/develop-your-customized-genealogy-family-tree-board-game/

Contact
Multimedia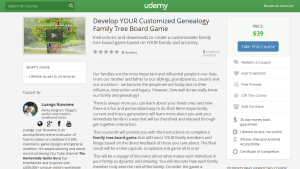 The main page of the Udemy.com Family Tree Game Course by The Homemade Game Guru