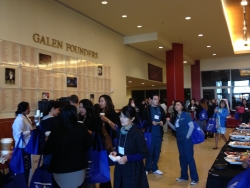 Los Angeles, CA, December 02, 2014 --(
PR.com
)-- Through a partnership with USC Keck School of Medicine, BREATHE California of Los Angeles County (BREATHE LA) held its 6th Annual COPD Conference – New Technologies and New Hope for an Old Disease – at the University of Southern California Galen Center. On Wednesday, November 19, 2014, over two hundred medical professionals and students attended the event to learn about the disease, new ways to diagnose it, and different treatment options.
COPD (Chronic Obstructive Pulmonary Disease) is the third leading cause of death in the United States and the second leading cause in California; in Los Angeles County alone, COPD affects nearly 550,000 people. The panel of doctors, healthcare professionals, and patients, discussed the newest methods of treatment and early diagnosis.
The conference moderator was Dr. Guy Soo Hoo, Chief of Pulmonary and Critical Care Section at the West Los Angeles Veteran Affairs Healthcare Center. The panelists included:
· Dr. Harry Rossiter, an Associate Professor of Medicine at the David Geffen School of Medicine at UCLA, talked about new approaches and strategies n pulmonary rehabilitation.
· Diana Guth, a Registered Respiratory Therapist and owner of Home Respiratory Care, discussed ancillary devices that can help the severe COPD patients.
· Dr. Ahmet Baydur, Professor of Clinical Medicine at USC Keck School of Medicine, enlightened the crowd on COPD phenotypes in LA County.
· The Keynote, Dr. Donald P Tashkin, Emeritus Professor of Medicine in the Division of Pulmonary and Critical Care Medicine at David Geffen School of Medicine at the UCLA, presented on new drugs and other new technologies for COPD patients.
· Karen Erickson, a COPD patient and Associate Executive Director of Community Engagement at the Alpha-1 Foundation, gave insight on her double lung transplant and her participation in research studies.
Several medical vendors were also in attendance, providing innovative solutions and new technological advances. Additionally, BREATHE LA supplied each conference attendee with early warning analysis cards to give to patients, as well as, early diagnosis screening placards for their medical offices.
"At BREATHE LA, we gather experts in lung health innovation and provide a platform to dispense pertinent information on new technology and new diagnosis tactics," said Enrique Chiock, BREATHE LA President & CEO. "Our conferences allow us to get the most important information to the healthcare professionals of Los Angeles County."
BREATHE LA is a nonprofit organization established in 1903 dedicated to creating clean air and healthy lungs for Los Angeles County residents. BREATHE LA focuses outreach and education efforts on community health fairs, the Better Breathers Clubs™, local schools, and collaborations with leading local organizations that are taking action to improve environmental impacts in neighborhoods most affected by poor air quality. The mission is to promote clean air and healthy lungs through research, education, advocacy and technology. BREATHE LA works to improve health outcomes and quality of life for those suffering with asthma, COPD, lung disease and other breathing conditions. To donate or learn more about BREATHE LA, visit www.breatheLA.org.
For conference presentation materials, go to http://breathela.org/6th-annual-copd-conference-featured-speakers-presentations/.
Images upon request.