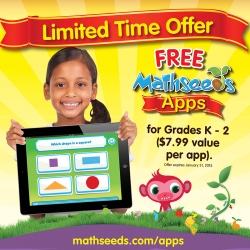 New York, NY, December 04, 2014 --(
PR.com
)-- Blake eLearning, the educational publishing company behind the multi-award winning online learning programs, Reading Eggs and Mathseeds, have released three new math apps designed to teach essential early numeracy skills to students in Kindergarten, Grade 1 and Grade 2.
The Mathseeds apps are the latest addition to Blake eLearning's extensive range of educational apps for kids, which offer a powerful way of using the touch-based interactivity of the iPad to help students stay engaged while learning.
Aligned to the Common Core Standards and developed by a team of educators with over 30 years' experience, the Mathseeds apps include an extensive range of activities designed to build various math and problem solving skills and feature a highly motivational rewards system.
Each Mathseeds app is designed to target specific skills and topics taught in Kindergarten, Grade 1 and Grade 2.
Mathseeds Kindergarten covers topics like numbers, addition and subtraction, fractions, patterns and shapes. Children are also introduced to grouping and sharing, measurement, money and data.
Mathseeds Grade 1 and Grade 2 explore the topics in further depth and include a dictionary of terms for students to refer to.
Mathseeds has been welcomed by parents and teachers over the last few years as a highly valued learning tool for preparing children for school and giving them a head start over their peers. Jackie, a Kindergarten teacher and parent to a five year old, said, "I am so grateful to have finally found an online math program that engages young children and actually teaches them at the same time. The lessons are very well written and the animations are fantastic."
All three Mathseeds apps feature a scratch board for working out problems, as well as audio prompts for word problems. The apps are multiplayer, allowing up to 4 players to play against each other, and feature a timed section where students can develop fluency in calculations, speed and recall through timed activities.
The Mathseeds apps also include a training area, which features various word problems where math concepts from the topics are put into everyday situations, and children can earn various badges and tokens throughout the game to cash in and unlock a variety of fun math games suitable for their age group.
Parents also have the additional feature of setting up multiple accounts for their children, and can view each child's progress, which is tracked and recorded in the app.
The Mathseeds apps are available now to download on the Apple App Store. For a limited time only, Blake eLearning is offering the Mathseeds apps for free, normally priced at $7.99. Parents and teachers can find out more and download the app by visiting www.mathseeds.com/apps.
Mathseeds also releasing Mathseeds School Edition for Grades K-2 in April at the NCTM conference. Learn more - www.mathseeds.com