Energized Corps Program "2015 Goals" Launched Offering an Irresistible Proposition to HR, CEO, Managers, to Achieve Higher Productivity and ROI for 2015
End Burn Out, recognized experts in stress management and productivity solutions, recently announced their "Energized Corps" program that gives managers a proven way to energize their work force, increase productivity, raise ROI and reduce stress in the workplace. Now with "Energized Corps 2015 Goals" End Burn Out is calling for ten select businesses nationwide and in Canada to enjoy greater productivity and ROI.

Washington, DC, December 11, 2014 --(
PR.com
)-- Experts agree, to win in the marketplace the smart business needs to first win in the workplace. One of the most important ways to win in the workplace, is to take every opportunity and make the best of it. Fortunately, this is a subject that's been mastered by business productivity experts
End Burn Out
, and made into a system that can help any business become much more successful. End Burn Out launched the Energized Corps program with just these goals in mind. Designed for human resource departments, CEOs and managers working towards increasing motivation, productivity, ROI and reducing stress and absenteeism in the workplace, the program has been met with quick enthusiastic reviews.
"We are committed to help organizations reduce absenteeism costs related to stress and burnout, improve team's dynamics and increase their ROI. Our Energized Corps program helps accomplish these goals elegantly and efficiently," commented Nadia Vincent, Founder and CEO of End Burn Out. "With happier employees you will end up with happier customers, guaranteed. This is truly the way forward for businesses looking to perform their best, again and again."
According to End Burn Out, the Energized Corps program addresses the need for stress management and performance improvement of employees on all levels. This holistic approach not only makes for a happier and more productive workplace, but also carries over into all areas of an employee's life. A winning strategy that builds loyalty, dependability, well-being and productivity that's been proven again and again.
Developed by Vincent, a Global IT Management Consultant and self-help expert with almost two decades of experience, and who watched her teams experienced burnout and later ends up burned out herself, the program is a joint efforts of some top world experts to contribute to a more productive and rewarding workplace. "Energized Corps" addresses a glaring problem she observed in the workplace going unaddressed until she applied her expertise in collaboration with the best in the field worldwide and created a sustainable solution. The results have been remarkable.
Feedback has been and continues to be resoundingly positive, both from individuals and businesses who have used the program.
Emily G., a small business owner from Boston, recently said, "We have a small business that relies on a sales team that needs to produce under very stressful conditions. The Energized Corps program has been a life saver for us. Not only are people smiling more in the office, but our sales are up consistently since our employees are applying the principles of the Energized Corps program daily. I can't offer enough praise for Nadia Vincent, End Burn Out and Energized Corps. Since it is a portable solution we listen to the audiobooks while driving to work."
The corporate program has been credited with saving participating businesses a tremendous amount of money, in addition to building employee retention. Complete details, including interesting videos discussing the program, are available at the End Burn Out website at
https://www.endburnout.com/business-corporate/
The company is offering to a select ten businesses in the USA nationwide and Canada a special "2015 Goals" package offer for the end of year at a reduced price. If your company can benefit from reducing absenteeism and increasing productivity and ROI, at a minimum investment, contact End Burn Out before December 31st to qualify.
Contact
End Burn Out
Nadia Vincent
1-800-304-0194
www.endburnout.com
End Burn Out
The Global City Code
1629 K Street NW,
Ste 300 Washington DC
20006 USA

Contact
Multimedia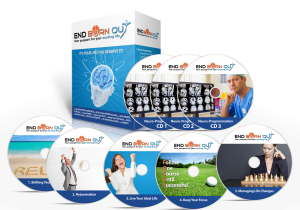 Audio training for the conscious mind and neuro-programming sessions with "inercises" for the subconscious mind.