Success Comes with Complications for Xclaimed Ministries
Over 2000 people attended the Xclaimed Ministries 6th Annual Christmas Festival to receive free toys, food, gifts and concert. This was the ministries largest turnout for their Christmas Festival and it leads to questions about next year's event. With the number of people drastically increasing each year; have they outgrown their venue? Can this small ministry afford to relocate?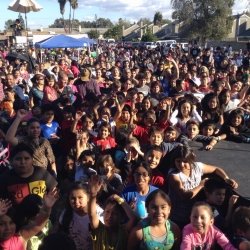 Stanton, CA, December 16, 2014 --(
PR.com
)-- Xclaimed Ministries announced its 6th Annual Christmas Festival for December 13.
Each year the ministry provides a free concert, free food for everyone and every child receives free toys. This year the event did not happen without obstacles trying to hinder its production. On Tuesday, prior to the event, a parking structure and a parking lot that were approved for the ministry to use were considerably downgraded to a limited use of the space. The forecast of rain caused the owner of the sound equipment to back out just three days before the event. Thursday, the rain came in heavy and did not seem to stop. Paul Karanick, evangelist and co-founder of Xclaimed Ministries, said, "I told everyone that we need to remember that this is God's event, we are doing this for Him. If He wants it to rain on His parade then so be it, however, we are not going to stop until He says to stop. People asked me if I had a backup plan. I felt like Moses standing before the Red Sea with the enemy charging in towards us. I had no backup plan, I just knew that if God had taken us this far, He would see it to the finish."
On Saturday morning the event went as scheduled. Chaze Karanick, lead singer and co-founder of Xclaimed Ministries, looked from the stage at the crowd of people and said to Paul, "What if we would have cancelled the event? Look at all those people who would have missed out on hearing about Christ and receiving free toys and gifts." Over 2,000 people attended this event, which is a significant increase from last years attendance. Paul Karanick said, "We were expecting close to 1,500 people, so this was a great surprise for us. The line of people started to form at 7:30 a.m. and continued to form around our church building and down the street. People just kept coming for hours. Around 1:00 pm, we had to run to the local grocery store and purchase 500 more hamburger patties and buns so that we could feed all the people in line. By 1:30, we had to start turning people away. We felt that we had reached our maximum ability for this event."
Registration for this event began at 11:00 am, however, people began to save their spots in line hours earlier. Besides toys for children, the ministry is well known for its ability to help families with everyday necessities. The adults were able to choose gifts such as comforters, pillows, bedding, mirrors, security doors, hair dryers, microwaves, cabinets, flooring and so much more. Paul Karanick said that they have a great desire to help improve the community and if the ministry can help people with their quality of life at home, then they can strengthen the overall community.
The concert began at 1:00 pm which was followed by a message from Paul Karanick of Hope in Jesus Christ. When Paul asked, "Do you want to go to Heaven?" hundreds of children shouted out, "Yes!" It was by far the highlight of the day for the Xclaimed Ministries team to see and hear so many children respond to the Love of Jesus Christ.
At the end of the day, thousands of toys (scooters, electric quads, Barbie's, soccer balls, footballs, nail polish kits, legos, educational games, etc) were given to children up to 15 years old. The ministry allows the child to choose one large toy and then they are given an age appropriate bundle of smaller toys. Families received items to improve their home and quality of life. Overall, the ministry provided both physical and spiritual necessities for the community.
Paul Karanick said, "We began this festival years ago and only a hundred or so people attended, and now we have a crowd that is greater than we could ever have expected. But, with success comes issues. Due to the size of the crowd and the lack of parking, this may be the last event that we can have at this location. My hope is to find a venue that can hold this many people or more. That would solve many of the issues we will be facing in the near future. Over the past few years, the homeowners in the community have been battling with local apartment complexes over parking on the streets. Therefore, many streets are now 'Permit Required' parking, which puts us in the middle of this battle. Now that there are so many streets requiring a permit to park, there isn't enough parking available for people attending the event. However, we know that the same God that has brought us this far, will continue to provide the needs for this ministry to do the work He has called us to do. We are a small ministry that relies fully on God and He never fails."
For information about Xclaimed Ministries visit
www.xclaimed.org
Contact
Xclaimed Ministries, Inc
Paul Karanick
(714) 803-9692
http://www.xclaimed.org
10871 Western Ave
Stanton, CA 90680

Contact