LifeSpan Receives OSHA SHARP Award
Excellent Worker Health and Safety Recognized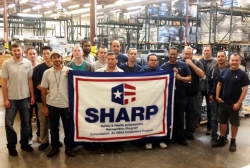 Tampa, FL, December 18, 2014 --(
PR.com
)-- LifeSpan, a leading provider of IT Asset Disposal services, announced that its Tampa plant has been recognized by OSHA (the US Office for Safety and Health Administration) with the SHARP award. The Safety and Health Achievement Recognition Program award is given to small and medium-sized employers who operate an exemplary safety and health management system.
David Ashman, OSHA Safety & Health Consultant, was on hand to present LifeSpan's Tampa team with the award. OSHA presented the team with a certificate and a flag that will be hung inside the plant. The team photo with the flag and award notes will be posted on the SHARP website: https://www.osha.gov/dcsp/smallbusiness/successes.html
According to OSHA, SHARP status places LifeSpan in an elite group of small businesses that maintain exemplary injury and illness prevention programs.
Some of the requirements to qualify for the SHARP award include involving employees in the safety process, correcting hazards identified by a safety consultant, implementing and maintaining a safety and health management system that adheres to OSHA's 1989 Safety and Health Management System guidelines, and maintaining a DART (Days Away Restricted Time, or work days missed due to injuries) rate below the national average for the company's industry.
The SHARP award recognizes LifeSpan's efforts that go above and beyond it's existing third-party certification requirements, such as e-Stewards, and the ability to achieve and maintain a safe workplace.
"Implementing an effective safety and health management system, encouraging greater employee participation in the safety process and providing more site specific training resulted in a dramatic drop in DART rate and cost savings with insurance," said Mathew Hansen, LifeSpan's Director of Recycling Operations. "We now address potential hazards though critical thought and root cause analysis," continued Hansen.
Productive weekly and monthly safety meetings where employees share situations or areas of concern are now the norm at LifeSpan and have helped to identify and address potential hazards in the workplace. The Tampa facility now prides itself in a zero DART rate.
"LifeSpan has always placed a high priority for worker health and safety. The recycling industry has struggled with safety, so receiving this award is particularly gratifying," said Dag Adamson, President of LifeSpan. "The team in Tampa has worked hard to keep our operations safe while increasing our volume of material and efficiency. We have been able to provide better service to our customers while at the same time maintaining a safer work environment for our employees."
Contact
LifeSpan
Cindy Miller
888-720-0900
www.lifespantechnology.com

Contact