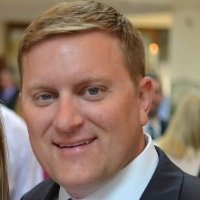 Winston-Salem, NC, December 19, 2014 --(
PR.com
)-- Coville, Inc. (
www.covilleinc.com
), a vertically-integrated domestic provider of innovative knits and apparel, is proud to announce that Nicholas A. Pence will join the company as Vice President, Sales and Business Development effective January 1, 2015. In his new role, he will manage current fabric, garment and Coville Brands customers and seek new business opportunities.
Coville President Don Trexler explained, "With his outstanding leadership, service to our country, and previous industry experience, we are very proud to have Nick join our team. We are confident that he will be an important addition to the Coville group with his proven technical expertise in protective products for military and commercial applications."
Nick brings to Coville a strong textile background along with extensive experience in the protective products market; most specifically with fabric and apparel for military and commercial applications. Nick spent the past four years at DRIFIRE, where he held numerous positions in business development, sales and strategy. Prior to joining DRIFIRE, he was Military Market Manager at Tencate.
Pence is a graduate of Michigan State University with a BA degree in Business Administration Pre-Law. He is also a decorated US Army Ranger with Bronze Star with Valor Device, Purple Heart, Joint Service Commendation Medal, Army Commendation Medal, Army Achievement Medal, Joint Meritorious Unit Award, Army Good Conduct Medal, National Defense Medal, Afghanistan Campaign Medal, Iraq Campaign Medal, Global War on Terrorism Expeditionary Medal, Global War on Terrorism Service Medal, Army Service Ribbon, Overseas Service Ribbon, Reserve Overseas Training Ribbon, Combat Infantryman Badge, Expert Infantryman Badge, Ranger Tab, Senior Parachutist Badge and Pathfinder Badge. He participated in four combat theater deployments (Afghanistan and Iraq) while on active duty with the 3rd Battalion, 75th Ranger Regiment. He continues to serve our country as a Ranger with C Company, 3/108th Airborne Infantry Army National Guard with non-combat operations in the Republic of Georgia, Uganda and Cameroon. Nick and his wife, Lindsey, have two young daughters, McCall and Brooks.
He will assume the position currently held by Dave Lambert, who will retire from full time employment effective March 31, 2015. Dave will continue serving Coville on a part time, special projects basis. Dave's textile career has spanned 43 years with Wellman, Optimer Brands and Coville, encompassing a broad range of experience from dyeing and finishing to polyester staple technical service and support to brand management and domestic and international sales and marketing.
About Coville
Coville operates world-class knitting and cut and sew services all in close proximity to its North Carolina headquarters. The company offers finished and greige fabrics and contract and full package production programs with expertise in a wide range of activewear, military, performance, protective, sportswear, underwear and other sewn products.
Founded in 1976, family owned Coville, Inc. is headquartered in Winston-Salem, North Carolina. The company's subsidiaries include Alandale Knitting Company in Troy, NC and Carolina Apparel Group in Wadesboro, NC. The company maintains significant relationships with dyeing and finishing plants in North and South Carolina, as well as a distribution and fulfillment center in Stallings, NC. Together, the Coville family of companies brings a combined 125 years of industry experience to meet the fabric, production, and full package needs of apparel and sewn products retailers, brands and OEMs. Visit the website at: www.covilleinc.com.